By Michael Kompanik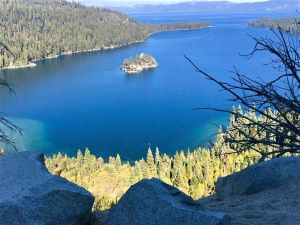 Truly the shining jewel of the magnificent Sierra Nevada, Lake Tahoe captures the hearts of all who come to enjoy its deep azure waters, fresh mountain air, and stunning natural beauty.
Situated along the California-Nevada border at an altitude of 6,225-feet, Lake Tahoe is the largest alpine lake in North America. The vast majority of the land surrounding the lake is national forest filled with native wildlife and spectacular panoramic mountain vistas, making it an ideal playground for nature lovers.
What Makes Lake Tahoe So Spectacular?
First–its mesmerizing sapphire-color. Cold, pristine Lake Tahoe is 1,645-feet deep, the second deepest lake in the U.S. Its clarity is so striking, an underwater white dinner plate can be seen 70-feet below the surface.
Second–Lake Tahoe is a perfect four-season destination. Hiking, boating, fishing, white-water rafting, parasailing, mountain biking, paddle boarding, kayaking, and more are available spring, summer, and autumn. With snowfall, Tahoe turns into a winter wonderland with spectacular skiing venues like Squaw Valley and Heavenly Mountain.
Getting the Lay of the Land
Perhaps the best way to explore Tahoe is to complete the 72-mile drive around the lake. This journey can take anywhere from two hours to an entire day, depending on how many "Honey, stop the car moments" you take while reveling in its jaw-dropping beauty.
Although Lake Tahoe is split east and west between Nevada and California, its character is more north and south oriented. The north is less populated with a heavy emphasis on outdoor activity. While Tahoe's southern shore sports some casinos and urban development, rest assured, there is still plenty of outdoor recreation and spectacular natural scenery to be enjoyed.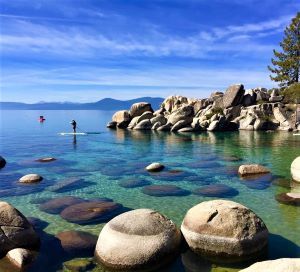 Favorite Activities
Lake Tahoe's list of water activities is virtually endless. Kayaking and paddle-boarding at Sand Harbor are spectacular. Jumbles of boulders tumbled along the shoreline and out into the calm crystalline waters. Here Mother Nature created a surrealistic cove of stunning beauty where water-borne adventures meander endlessly among, through and over the rock formations while drinking in the splendors of the pine-covered wilderness.
A lake cruise to Emerald Bay is a must-do. Vessels ranging from large paddle-wheelers to smaller vintage craft treat guests to a relaxing voyage across Tahoe's wide expanse to the shimmering sheltered waters of Emerald Bay. Perhaps one of the most picturesque waterscapes in the entire world, Emerald Bay is the crown jewel of Lake Tahoe, and one of its most photographed sites. Rimmed with steep mountain slopes, the bay features a single rocky island capped with the ruins of an old stone teahouse. A stunning Nordic castle-themed mansion nestled lonely along the shore only adds to the ambiance.
If water activities reign supreme at Lake Tahoe, hiking comes in a very close second. The 165- mile Tahoe Rim Trail circles the lake and offers scores of branching trailheads for all levels of hikers, mountain bikers, and horseback riders. The popular Eagle Falls Trail Head from Emerald Bay is a moderate 1.8-mile hike that provides happy wanderers with spectacular views of Lake Tahoe as they journey to a nearby waterfall and a small alpine lake shielded by mountains.
Where to Stay
Lake Tahoe offers a wide range of accommodations, from small rustic cabins and alpine lodges to larger hotels and vacation clubs. Two favorites from opposite sides of the spectrum are River Ranch Lodge in North Lake Tahoe, and two large alpine-themed Marriott resorts in South Lake Tahoe–the Grand Residences Club and the Timber Lodge.
The historic and charming River Ranch Lodge offers 19 boutique rooms all overlooking the Truckee River, popular with white-water enthusiasts in the summer. The Marriott properties anchor the base of Heavenly Mountain Ski Resort, but their suites are perfect year-round for family stays.
Where to Dine
While there's no shortage of dining venues around Lake Tahoe, many establishments in this outdoor paradise are local and quaint "Mom and Pop" varieties. Our favorites? Base Camp Pizza (the best pizza in Tahoe) and Driftwood Café (utterly charming home-style cuisine) in South Lake Tahoe.
For finer lakeside dining, Sunnyside Restaurant and Lodge in North Tahoe is a perfect choice. It's classic California cuisine at its best accompanied by spectacular water views.
Venturing Out
Need a break from Mother Nature? A mere hour-and-a half-drive to nearby Virginia City can provide weary outdoorsmen with a taste of an authentic old west mining town with historical buildings, saloons, a mining museum, and even ghostly hauntings.
With its amazing and alluring natural beauty, this water and mountain wonderland isn't a one-time destination. The only question is… which season to return? ~TPM
About Michael Kompanik—Michael is retired U.S. Navy Captain hailing from San Diego, California, and has traveled extensively around the globe. Always a wanderlust, he loves experiencing new cultures and destinations. His interests include nature, history, outdoors, adventure travel, and photography. Favorite destinations include Europe, Mexico, and the Mediterranean.