by Connie Werner Reichert
You may know something of Hawaii's Honolulu, with its skyscrapers towering into cobalt skies. But beyond its renowned big-city shopping, the island of Oahu offers much for visitors of all ages.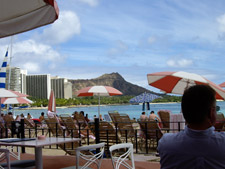 The people are friendly, and the lush island — with its skirt of turquoise seas — is breathtakingly beautiful. Whether you're interested in extreme sports or extreme relaxation, you'll find plenty to keep you occupied.
Here are 15 "Must Do" activities to guarantee you a memorable Oahu vacation:
1. Almost every weekend, families are invited to Waikiki Sunset on the beach in Honolulu. It's a free event for folks of all ages, spotlighting documentary films and feature movies, all showcased on a 30-foot screen. Bring your own lawn chairs and beach blankets and enjoy the show.
2. On the North Shore, at Turtle Bay Resort, it's the Legends of the North Shore Luau, every Friday night. There's an exciting dinner show with special entrees for the kids. You can enjoy tropical drinks at the outdoor, Surfside Hang Ten bar as well as late-night entertainment and dancing at the Bay Club. There's even live Hawaiian entertainment in the lobby daily from 4:30 p.m.-6:30 p.m.
3. The Sheraton Waikiki is the place to be for the best of live Hawaiian music. You will enjoy the mystical sounds of old Hawaii daily from 6:00 p.m.-8:30 p.m. at the poolside Sandbar.
There is also live entertainment by Stardust beginning at 8:30 p.m. in the Hanohano Room.
4. A North Shore Shark Cage Tour will satisfy the most adventurous visitor. You'll find yourself with mask and snorkel on, in a cage, immersed in shark-infested waters. No diving experience is necessary, and there's no age restriction. This tour is guaranteed to change your feelings about sharks.
5. The Dole Plantation is a haven for pineapple lovers. The grounds are immense and well manicured, featuring the world's largest maze. Plus you'll find there pineapple ice cream, taffy, jam, and even pineapple-themed clothing.
6. Hilo Hattie has been the unofficial a"Store of Hawaii" since 1963. Here you'll find anything and everything Hawaiian. You can take a free shuttle bus there from various hotels in Honolulu. When you arrive, you'll be greeted with a shell lei and fresh passion fruit juice.
7. Sportsfishing is a must on Oahu, where various charter companies will take you out to the deep blue ocean for about 4 ½ hours to wrestle with Marlin, Mahi Mahi, Ono, and Ahi. There's nothing quite like catching your own dinner. Many of the charter boats will allow you to clean, gut, and cook your own catch right on the boat! (Or do it for you if you prefer.)
8. Helicopter tours provide a view of the island you just can't get by car. You'll be entranced by majestic waterfalls, breathtaking vistas, and razor-sharp ridges. Check with your hotel concierge for the best value tours and availability.
9. You must play out on the water if you want to experience Oahu in an authentic way. The best cruise on the island is the Kai' Oli" Oli. The $1.5 million catamaran takes you out to see dolphins and flying fish in their native habitat. And you'll have a chance to snorkel in an underwater marine preserve. Plus you'll cruise past sites like the home of the CEO for Harley Davidson and that of actress Cameron Diaz. A delicious lunch is also included. The launch point is only 20 minutes from Honolulu.
10. Cirque Hawaii features award-winning artists from around the world, who display in their performances an exotic blend of strength, balance, humor, skill, and beauty.
11. Extreme Parasail is one company that will give you an experience you won't ever forget. It's the only parasail company that flies side-by-side tandem so you can sit next to your loved one as you sail above the turquiose waters. You'll get about 15 minutes of airtime and a guaranteed adrenaline rush.
12. The Polynesian Cultural Center is magnificent. As Hawaii's #1 paid attraction, this center takes you back to old Polynesia. You will experience first-hand the 42-acre grounds with seven native villages. Activities allow visitors to throw Tongan spears, prepare Tahitian coconut bread, and even train with Samoan fireknife practice batons. You'll can also enjoy one of Hawaii's most authentic luaus.
13. SeaLife Park is an adventure for the family. You can learn about dolphins and other sea creatures through touch and play. Their manta ray encounter brings you face to face with stingrays as you snorkel through their lagoon as these animals glide through the water. You can also hang out with sea lions and dolphins and get a firsthand sense for their fun-loving personalities. Sea Trek Adventure takes you three fathoms down into a 300,000 gallon tank to explore and photograph eels and sea turtles and colorful salt water fish.
14. Pua Mau Place on the Kohala coast is a botanical haven sculpture gardens and15 landscaped acres. It is the home of hundreds of species of native and exotic flowers, trees, and shrubs. You'll find there a Hibiscus flower maze as well as live music at an outdoor amphitheatre. Plus there is an aviary with peacocks, guinea hens, and chickens, along with a whale-watching deck.
15. For real Hawaiian music, don't miss the legendary Don Ho Show at the Waikiki Beachcomber. He's the King of Hawaiian entertainment and you'll celebrate the true spirit of aloha with Don Ho and his family of entertainers.
To buy this article for use in your publication, click here