By George Cagala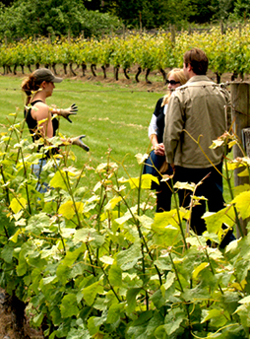 A sip of Siegerrebe, a nip of Müller-Thurgau, a tot of Madeleine Angevine. We're not in Napa anymore. We're in Puget Sound … wine country.
Okay, maybe this land of thick forests, gray winters and killer whales doesn't have the same viticultural cachet as its better-known neighbor to the south. But just wait another 80 or 90 years, predicts Leah Waaramaki, a young winemaker on Whidbey Island, an hour northwest of Seattle where forests of alder, fir, cedar and cottonwood still dominate the landscape.
"By 2095, we may be one of the premier wine-growing regions in the country," she says, citing a recent article about global warming and how it stands to impact the world's wine-producing areas.
With its nearly one hundred wineries in operation, you might be tempted to think Puget Sound already is a major wine-growing region. But a closer look reveals most local wineries import grapes from eastern Washington, where the warm, sunny growing season is ideal for cabernets, merlots and other popular varietals. Only a dozen of the winemakers in Puget Sound use grapes grown in the area.
And those dozen mavericks produce wines markedly different from those you'll taste elsewhere. They've abandoned popular varietals for others better suited to this cool maritime climate, producing wines said to complement rather than overpower the area's home-grown specialties such as Dungeness crab and canal oysters. Their wines have even earned their own official designation: Appellation Puget Sound.
The tasting rooms you'll find here are generally small-scale and modest. You'll find them in converted barns, sheds or garages, where a tasting costs a couple dollars, if anything at all.
There's a reasonable chance you'll even find the winemaker behind the bar pouring samples. Ranging from formally-trained to self-taught, they're happy to tell you about their unique grapes.
"Chances are, if you've heard of the grape before, we don't grow it," says Frank Rayles, owner of Greenbank Cellars on Whidbey Island.
Rayles tells us about the Siegerrebe grape, which produces a fragrant white wine with a note of grapefruit, and the Madeleine Angevine, another white wine, dry and crisp in character with hints of citrus and herb, which is often pared with seafood. Then there's the Müller-Thurgau, an aromatic, delicate, fruity wine that can be finished either dry or off-dry. These rare varietals emanate from the cooler regions of Europe like Germany, the Loire Valley, and Alsace regions of France.
Reaching across a polished oak bar, Rayles holds a tightly corked bottle up to the light. "See how dark that is?" he asks. The liquid is ink black. "This is from the Agria grape," he explains, "which is the basis of a Hungarian wine known as Bull's Blood. We hope to get a very rich, tannic-heavy red out of it."
Rayles continues talking about other grapes he's experimenting with, including a few clones of the Pinot Noir and "a number of grapes" that don't even have names yet.
"We're probably doing stranger things with grapes than most other wineries," he says with a grin. He refers to techniques like macerating the skins of grapes with the juice for a whole month, a process normally limited to six or seven days. "Most larger wineries don't have the space and time to do that," he says.
What's it all mean for the final product?
"Puget Sound wines generally are lower in alcohol than the prevailing alcohol bombs," says Gerard Bentryn, the pioneer who launched commercial winemaking here some 30 years ago with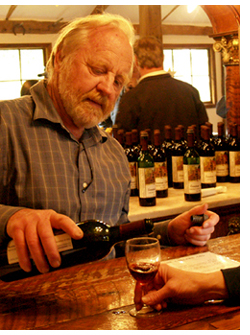 Bainbridge Island Vineyards and Winery.
"The high-alcohol, over-extracted bombs that may work with barbecue and slabs of beef simply don't work with our local foods. Have you ever had an oyster with a 16-plus percent red wine?" he asks. "If you didn't die from the taste, you'd wish you had."
Just 35 minutes from downtown Seattle by ferry, Bainbridge Island Vineyards and Winery is the largest of the Puget Sound purists with 14,000 vines across nine acres.
Bentryn is passionate about wine and refuses to work with anything but Puget Sound grapes.
As a businessman, though, Bentryn admits the region faces an uphill battle in becoming a winemaking capital, fighting land costs, labor situations, and competing "fake" wineries that bring in their grapes—or even finished wines—from elsewhere.
In the long run, however, Bentryn believes a warming climate may indeed turn Puget Sound into a grape-growing capital and maybe even one of the last places to grow grapes in North America.
For a complete listing of wineries specializing in Puget Sound wine, visit the Puget Sound Winegrowers Association website at: www.pswg.org.

If you wish to purchase this article for your publication, click here to contact the author directly.