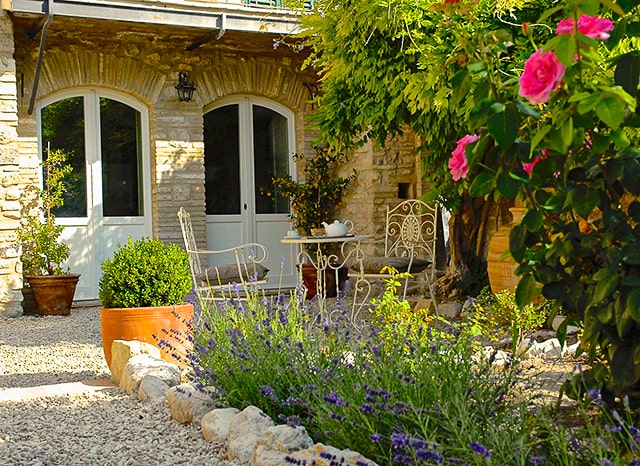 Q: Have you ever stayed in a place so special that you didn't want your stay to end?
A: That was exactly how we felt about Palazzo Sant'Angelo in Spoleto, Italy. As we were packing our bags to leave, a plan was already in place for our next stay.
This beautifully restored 15th-century villa absolutely stole our hearts. However, what makes Palazzo Sant'Angelo truly special are the owners and hosts, Lori and Justin.
From the moment we entered the palazzo, we felt like we were visiting old friends. Thanks to Lori and Justin's warmth and hospitality. Lori is an interior designer from Milan. Justin is a professional photographer from London.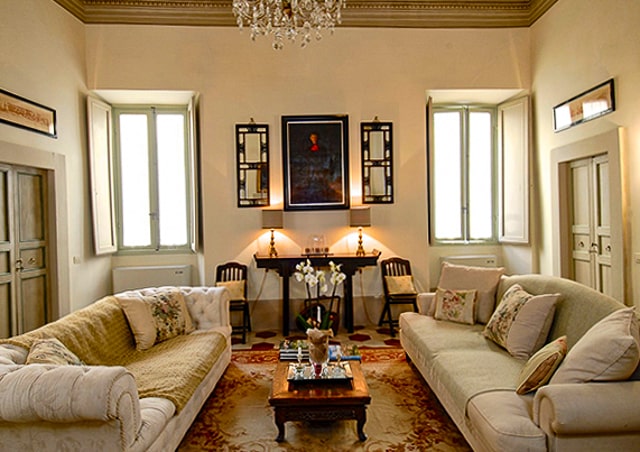 In 2012 they chose to give up their busy London lifestyle and moved to charming Spoleto. As Lori described it, "Our dream was to open a bed and breakfast that feels like we are having our friends visit us for a few days." I would say they more than succeeded in their quest.
A five-year restoration
Throughout the villa, every detail was thoughtfully considered during the five years the owners took to completely restore the palazzo. They respected its 600-year history while ensuring every modern comfort for their guests.
Lori's design expertise and vision are present in every room, with an eye to comfort and understated luxury. In addition to curated art, antiques, and classic furnishings, special touches surprise you around every corner. Chocolates on a sideboard. Fresh flowers and scented candles on a chinoiserie. And my favorite accessory, Mia, their sweet little pup who won us over from day one.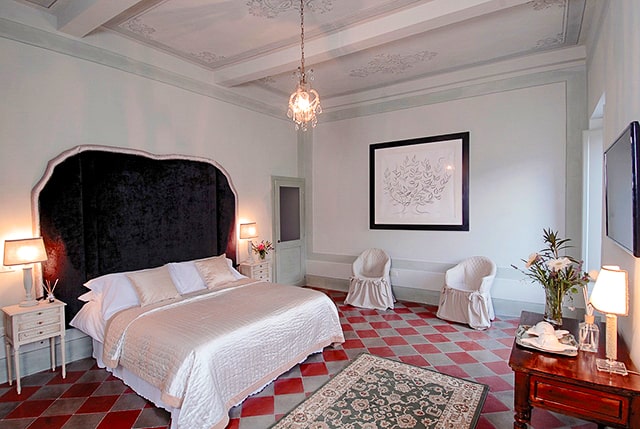 The villa's five guest rooms include stunning elements of the original finishes, such as ceiling frescoes and original floor tiles. All have modern bathrooms complete with designer toiletries.
Romantic hideaway
In our Green Room, we enjoyed a walk-in shower with a heavenly rain-style showerhead. Each night we laid our heads down on our super comfy king-size bed – a novelty in Italy. Our balcony looked out onto panoramic views of Monteluco and Spoleto's ancient aqueduct, Ponte delle Torri. Shuttered balcony doors left open in the evening gifted us a lovely breeze and the twinkling lights of La Rocca, Spoleto's 14th-century fortress, the town's highest point.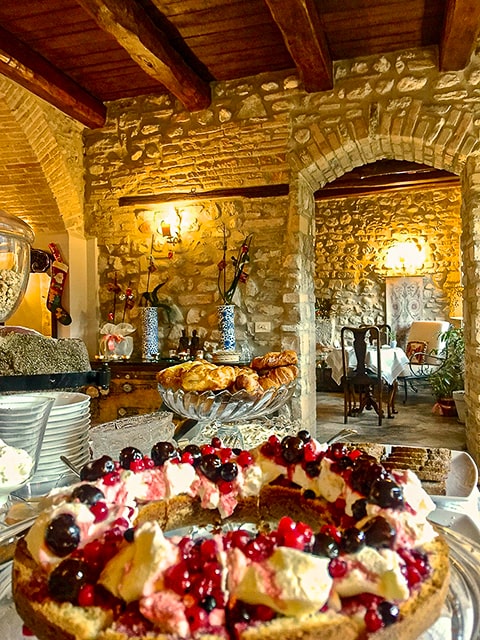 Breakfast at Palazzo Sant'Angelo…
…is not to be missed. An abundant buffet is set out each morning featuring fresh fruits, croissants, and charcuterie, as well as delicious homemade cakes and tarts (crostata). Lori's specialty, her signature frittata (Italian omelet), was for us, the star of the show.
We had the choice of taking breakfast in the old cellars of the villa, with soft classical music lending a romantic ambiance to the room, or out in the adjacent garden, surrounded by the scents and sights of wisteria, lavender, jasmine, lemon trees, and rosemary. In both places, we lingered over a second cup of coffee. We reveled in the serenity of the breathtaking view. Directly beyond the garden wall is a centuries-old convent, whose history will lead to intriguing discussions about the palazzo's origins.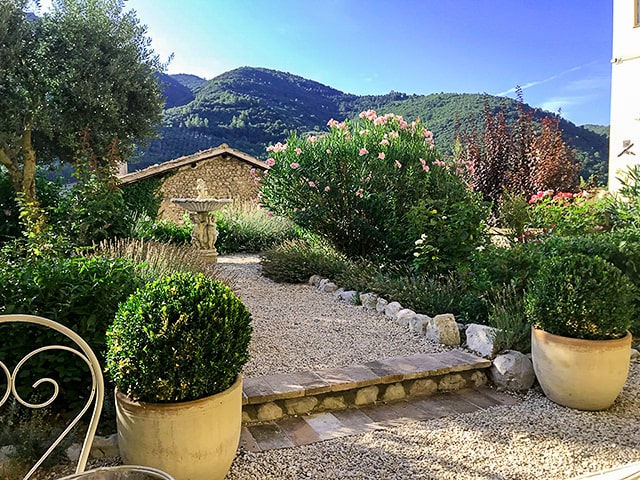 Pampered in Umbria
In addition to concierge services such as next-day laundry, Lori and Jason offer great restaurant recommendations and can assist with reservations (highly recommended, they are well-regarded in the community). They can also arrange several activities in the area, including cooking classes, truffle hunting tours, wine, olive oil tours and tastings, and even hot air balloon rides.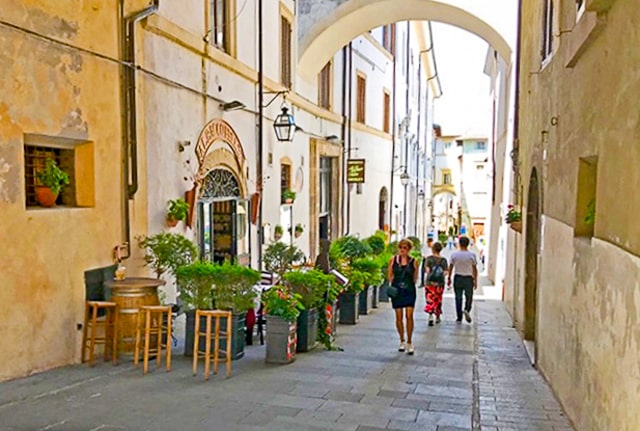 The palazzo sits at the edge of Spoleto's historic town yet is a short walk to the major sites. A medieval hilltop town of around 30,000 residents, Spoleto offers plenty of options. You can stay busy for a few days while sidestepping the large tourist groups of the more popular towns such as Assisi and Siena.
Spoleto Italy is the perfect blend of history and modernity. Art, archeology, culture, shops, and sidewalk cafes all merge to create a memorable small-city experience. A novelty here is Spoleto's escalator system, which allows easy access for those with small children or mobility issues, taking visitors up to the piazza near La Rocca. However, the hilly, winding cobblestone streets and alleys are fun to explore on foot, taking in Spoleto's beautiful architecture. Just bring your walking shoes.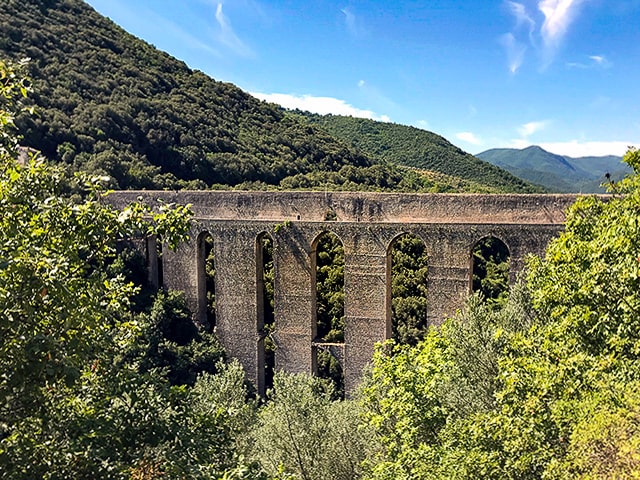 History and Culture in Spoleto
Start your walk and a history lesson at the top. At the majestic Rocca Albornoziana fortress, built in 1359–1370, then marvel at the Ponte delle Torri, a striking 13th-century aqueduct and bridge said to have been built on Roman foundations.
Stop for a gelato-with-a-view at one of the nearby outdoor cafes, then browse antique shops on your way down to the 13th century Duomo of Santa Maria Assunta.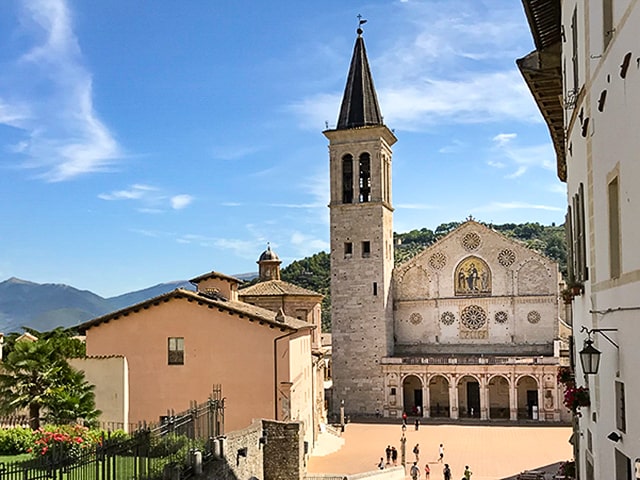 The Romanesque edifice contains extraordinary frescoes by Filippo Lippi and houses a manuscript letter by Saint Francis of Assisi.
Continue your walk through the maze of alleys and streets to Piazza Del Mercato, flanked on the north end by the Fontana con L'Orologio (fountain with the clock). Find a front-row seat at popular Caffe Degli Artisti, where locals and visitors like to while away the afternoon with a coffee or glass of wine and some good people watching.
On Friday, market day, the piazza is especially lively, with locals in colorful tents selling the freshest produce, meats, and cheeses, and other fun bibs and bobs to peruse. Learn a handful of Italian words and make fast friends with the warm and friendly locals. And if you see a stand selling Porchetta sandwiches – get one. It will be a life-changing experience.
Be sure to include on your tour the Roman Amphitheatre, built in the 1st century BC. Identified in 1891 by Giuseppe Sordini through a 16th-century drawing, today, it is included in a complex hosting the State Archaeological Museum. It is still used for performances and plays.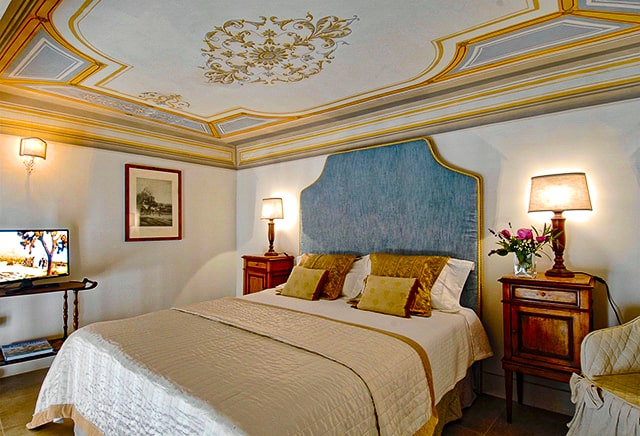 The Arts
Every June-July, Spoleto's Festival of 2 Worlds fill the streets with music, art, and dance. The festival was founded in 1958. It has developed into an important cultural manifestation, with a three-week schedule of music, theater, and dance performances. Make sure to check local art exhibits as well.
Cuisine of Umbria
Spoleto Italy is known for its varied and sophisticated cuisine. Its regional pasta is Strangozzi, made with either a traditional tomato sauce, Wild Boar Sauce, fresh porcini mushrooms, or the ubiquitous truffles (Tartufo), available during their respective seasons. If you've wanted to try truffles, this would be the place for less strain on your wallet than ordering them abroad.
Favorite eatery in Spoleto Italy
Our favorite restaurant was Trattoria La Torretta, a romantic Italian/Mediterranean restaurant with an outdoor terrace. We enjoyed their homemade strangozzi alla Spoletina and perfectly grilled lamb chops, paired with a local Sagrantino Red and excellent service.
For a casual lunch or dinner in a shaded courtyard, try Tre Fontana Pizzeria. Delicious pizza at local prices. Highly recommended for a special experience, Michelin-starred Il Tiempo Del Gusto offers a few Umbrian dishes but with a larger focus on imaginative dishes created by the chef.
Getting There
Spoleto Italy is 90-minutes by car or train from Rome's Fiumicino Airport and 2.5-hours southeast of Florence. Palazzo Sant'Angelo can arrange a shuttle service from/to Fiumicino and pick up guests from Spoleto's train station.
To learn more about this luxurious lodging, visit their website
Palazzo Sant'Angelo.
---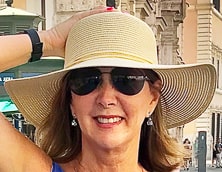 About Linda Funay McCarley ~ Linda's love for travel began at age 3 on her first family trip to Scotland. Canadian-born to Scottish parents, she has felt at home in many places globally. However, Italy is the country that always calls her back. She seeks out historic towns with interesting architecture, good vibes, and great food. She loves boutique hotels and B&B's but is no stranger to 5-star hotels.
Although McCarley is a new travel writer, she's had travel stories simmering in her head for several years. Thanks to being furloughed during COVID, she has finally found the time to make this happen. Follow Linda on Facebook and Instagram.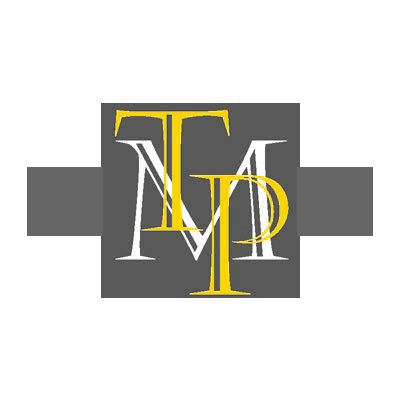 How Travel Writing Can Enhance Your Retirement – Welcome To The Third Age!