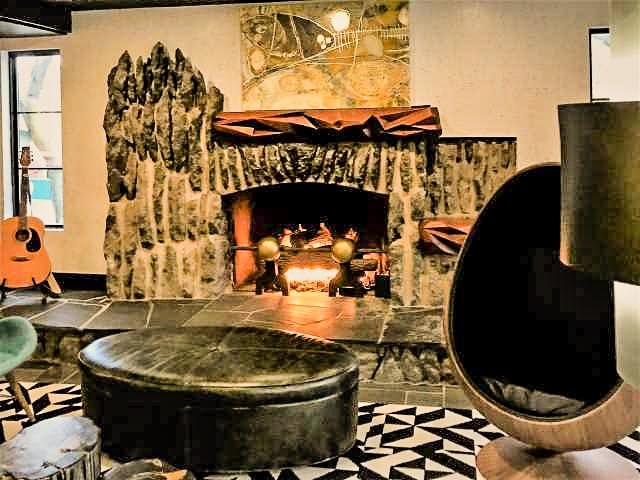 Luxury is ~ Plush linens, a roaring fire, and craft cocktails. The Hotel Earl, a luxury hotel in downtown Charlevoix MI, checks all the boxes.
The Hotel Earl, a chic 56-room boutique hotel with a trendy retro-vibe, makes it the perfect mid-century modern getaway. The ambiance is a nod to vintage history with modern amenities, like complimentary Wi-Fi throughout the hotel and Tesla charging stations.
Interior design elements include live edge wood featured throughout the building, including headboards, boardroom tables, and communal lobby tables. A live edge design incorporates the natural edge of the wood, making each piece unique. Custom millwork showcased in the lobby area provides a warm earthy atmosphere in the glow of a stone fireplace.
Located north of the Charlevoix Bascule bridge, the hotel is within easy walking distance from local boutiques and dining experiences. The hotel is also conveniently located near Round Lake.
Luxury
Hotel Earl's History
Earl Young was a local architect and builder known for his unique design style referred to as the "mushroom houses." The newly transformed hotel has its roots as Earl Young's Weathervane Lodge, built-in 1959. If you look carefully, original elements from Earl Young's Weathervane Lodge are present. The fireplace, in characteristic Earl Young-style, graces the hotel lobby.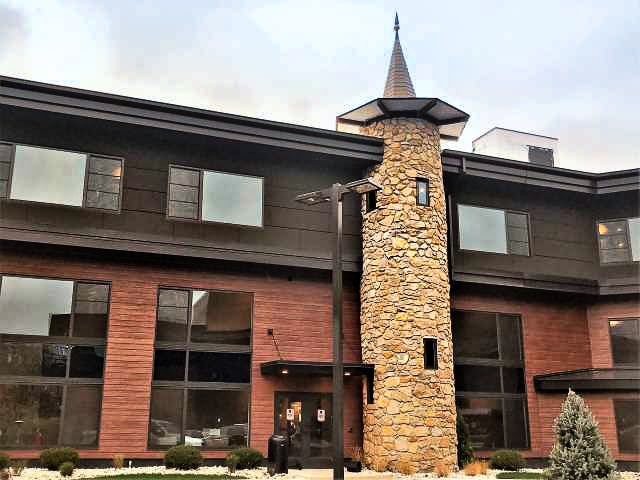 Earl Young's architecture features wavy rooflines, witches' hat torrent tops, and stone fireplaces. The design team's passion for preserving the original architectural details while integrating new design elements shows through.
The Guest Rooms
The lime green queen-sized sleeper sofa sat in front of local artist Kris Beemsterboer's black-and-white hand-painted mushroom mural. The guestrooms showcase Beemsterboer's art, and pops of color embrace the origins of this stunning property. That sofa also was convenient to watch the 50-inch Samsung smart TVs that are compatible with personal streaming services—making it easy to keep up with evening entertainment.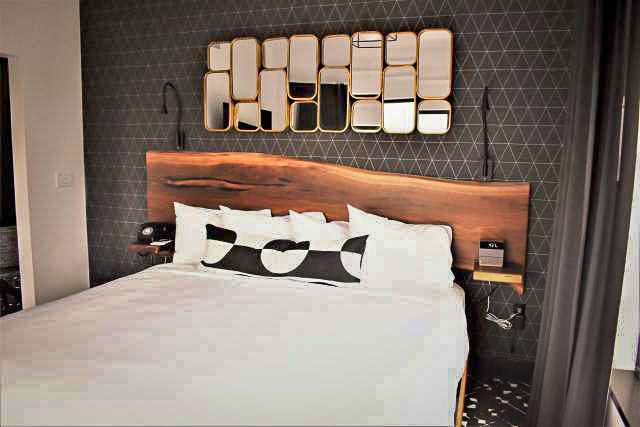 I was a bit worried that I forgot the plug to my cell phone charger, but I shouldn't have been. Each bedside stand offered two USB ports, as well as two standard plugs. I also appreciated the safety features of under-bed lighting that made it easy to navigate the unfamiliar territory and the in-room safe. If someone has an early start, the Bluetooth connective alarm clocks make it perfect not to disturb others in your room.
The Bathroom
My room featured a tiled walk-in shower that took up one wall with a rain shower head. They supplied Beekman 1802 bath amenities, which were a nice touch, with the luxurious quartz countertops. Extensive plush bath linens were ample. The lighted makeup mirror made getting ready for the day an easy task with plenty of light.
I lounged around in the plush terry robe while I had my first cup of coffee that I made with the Keurig coffee maker with Starbucks products. While they had high-end coffee at breakfast, I needed that first cup of caffeine to get moving, and it was right in the room for me. The balcony had seating to enjoy our morning coffee in the serenity of northern Michigan. Just what I needed to wake up gradually. A personal refrigerator also was there to keep water and soft drinks chilled.
The hotel's Earl Suite, the largest, located on the third floor, features a large balcony overlooking Michigan Avenue with views of Round Lake. This space, designed for socializing, has more than 1,500 square feet with a bedroom and full kitchen, a washer and dryer, two bathrooms, and a living room with a fireplace. Making the hotel an excellent home base for a family vacation or the place for wedding parties to dress for the big day.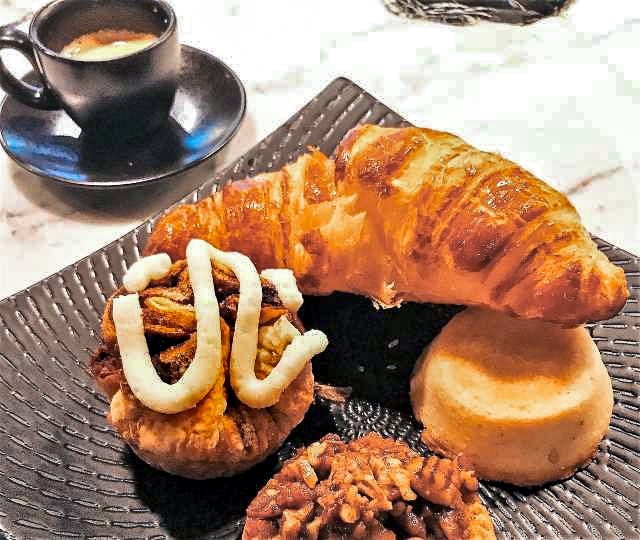 Breakfast
While many hotel breakfasts gave way to the brown bag Grab-and-Go style, the Hotel Earl figured out how to make breakfast feel luxurious, even during a pandemic. A glass pastry cabinet showcases authentic French pastries from the local French bakery, That French Place.
To accompany the pastries, a high-end coffee machine brews your morning cuppa Joe, from Higher Grounds signature Hotel Earl coffee blend. If coffee isn't your thing, tea or hot chocolate are also on offer. Add juice and yogurt to round out breakfast. Tell the barista your choices and take a seat by the roaring fire. They'll serve your selections momentarily, on glass plates with traditional flatware. It feels so luxurious; you'll stay for a second cup.
Luxury Services
After checking in, I received a text letting me know that if I needed anything, reply to the personalized concierge service text. The staff worked hard to ensure a relaxing and luxurious experience. Did you forget your toothbrush and toothpaste? Reply to your concierge, and they'll have one waiting for you at the front desk.
Pool and fitness
Since the Hotel Earl just opened, the heated indoor pool, fitness center, outdoor hot tub, and rooftop deck weren't quite finished yet when we visited. Still, those spaces will be just as luxurious as the rest of the hotel.
The fitness area will have a Precor treadmill and a recumbent bike. They outfit each machine with a personal TV, and the room also has a 65-inch wall TV. Free weights will also be available.
Rooftop deck
The rooftop deck, opening in spring 2021, will have a bar and seating with views of Round Lake and out to Lake Charlevoix, downtown Charlevoix, and even Lake Michigan.
The indoor heated pool will have a central water feature along with built-in bench seating. The pool will be open all seasons and has garage-style doors that open in the summer to enjoy warm weather. You can access the outdoor patio and hot tub from the pool area as well. The pool and hot tub will be ADA compliant.
Boardroom
Suppose you're looking for a place for a business meeting. In that case, their Boardroom accommodates up to 12 participants and provides a flat-screen television for presentations. The local shuttle van helps special event celebrations with transportation to local event venues come in handy when planning a group outing in Charlevoix.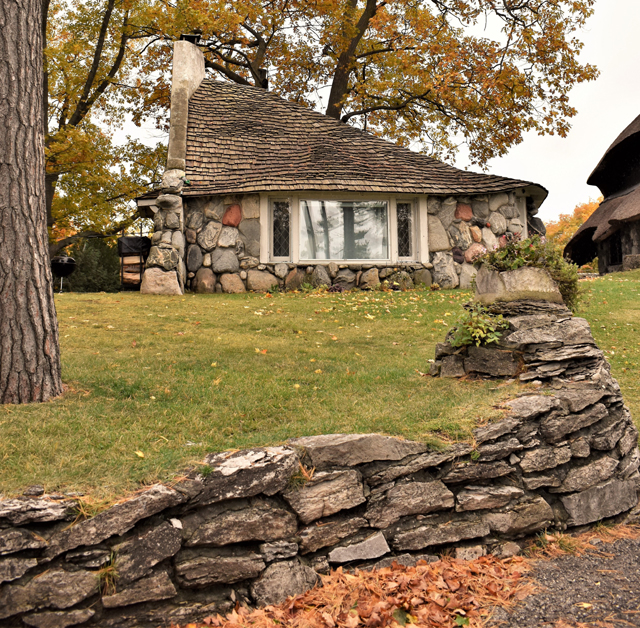 Charlevoix Mushroom Houses Tour
To continue the Earl Young theme, be sure to take the Mushroom House Tour in Charlevoix MI. You'll find a map for a self-guided tour here. We enjoyed the 50-minute tour conducted that Mushroom House Tours led with plenty of photo opportunities. While these homes are private, many are vacation rentals if you want to see what it was like to live in an Earl Young home.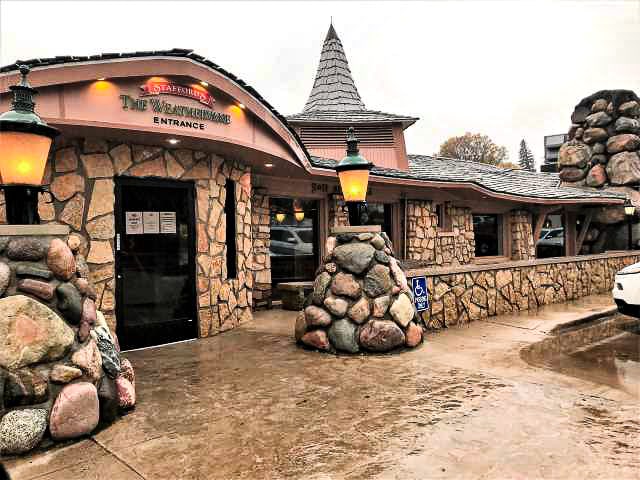 Stafford's Weathervane Restaurant
The Weathervane Restaurant across the street from the Hotel Earl provides another glimpse inside Earl Young's details, such as the stone fireplace in the restaurant's back.
In addition to seeing the architectural details featured at the Weathervane Restaurant, you're sure to enjoy the Michigan specialties on the menu, like Lake Michigan whitefish and nearby Traverse City cherries.
Getting to Charlevoix MI
Charlevoix, MI, is in the northwestern part of the lower peninsula, located on Lake Michigan's Little Traverse Bay. Major airlines fly into Cherry Capital Airport (TVC) in nearby Traverse City.
For more information about Hotel Earl, visit their website.
---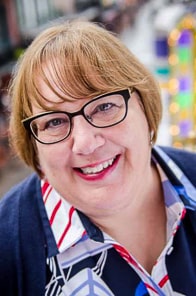 About Amy Piper—Amy is a travel writer and publisher of Follow the Piper, a blog focusing on luxury travel and food experiences. Her passion for travel has taken her to 41 countries. Amy resides in Lansing, Michigan. As a Michigan expert, she is currently writing the Michigan chapter in four anthologies about the Midwest and a book – 100 Thing to Do in Lansing Before You Die. Follow her on Twitter, Instagram, and Facebook.