By Mary Charlebois
It had been 30-years since I'd mailed the postcard from Paris. Framed in black, it sat among my friend's photos of family, friends, life events, and holidays. I asked, "How did my Arch de Triumph postcard make it to the rogue's gallery?"
How I got hooked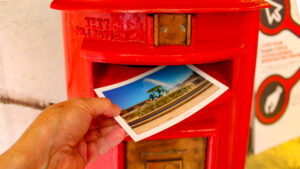 She told me it was the best piece of mail she had ever received. She related how exciting it was to find a little surprise among the pile of bills, magazines, and junk mail.
A simple postcard dropped in a Parisian post box, had made her day, and made her smile many times over the years. Listening to her story, I remembered postcards I received from my Nomadic mother as a child and how exotic they made places like Galveston or Amarillo seem.
Now, when I travel, I send postcards to my grandchildren, and to myself. When I get home from a trip, I can't wait to pick up my mail and see how many postcards got there before me.
Postcard treasure hunt
Picture postcards are my favorite souvenirs. They are inexpensive and don't require packing. They have a local stamp and postmark, setting the time and place. The memories they rouse always make me smile.
I look in gift shops, newsstands, hotel lobbies, galleries, antique shops, and post offices. Tourist information centers are an excellent source. I found some hand-painted jewels in Sitka, Alaska. An antique store in Paris had hundreds of cards, while most were reproductions, there were a few genuine oldies for sale. You might notice 'free' cards here and there, especially in your hotel room.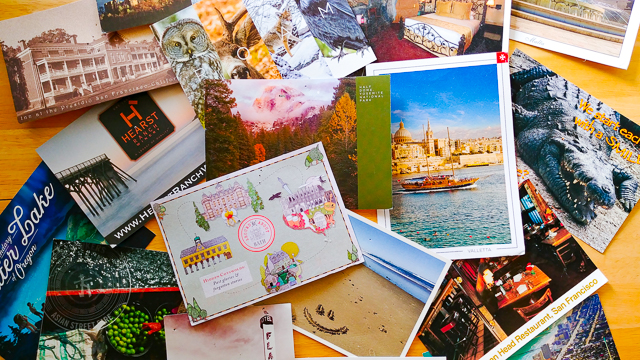 Postage surprises
When possible, I mail my cards from a post office. There I can buy stamps and get a local postmark. Many post offices also sell postcards. While the cards themselves don't cost much, sending them internationally to the US can be pricy. From England, it cost around $2.50, while from Malta to the same address in California, it was 50¢. I've stayed at numerous hotels that will stamp and mail your card if it's one of theirs.
Since beginning the 'mail myself a postcard' habit, I've collected hundreds, large and small, in several languages, old and new.. All are kept in a shoebox on my bookshelf. They are 30-years of souvenirs I don't have to dust, and are excellent story-starters.
I highly recommend you send one to yourself, friends, and family during your next excursion; they will be everyone's favorite souvenir. ~TPM
Subscribe to postcards from travelers around the globe click HERE.
Read another Travel Post Monthly story about mail ~
Where to Mail Your Christmas Cards in Christmas, Florida