…at Esse, an off-the-beaten-path museum
By Susan Brauer
ITWPA Member
What do Seoul South Korea, Amsterdam, and Little Rock Arkansas, have in common? On a recent trip to Little Rock, I visited the Esse Purse Museum. It's one of only three museums in the world dedicated to the humble handbag.
The permanent exhibition, What's Inside: A Century of Women and Handbags 1900-1999, is curated from owner Anita Davis' extensive collection. The eye-catching and informative exhibits take visitors on a journey through the progression of 20th-century women using the everyday purse.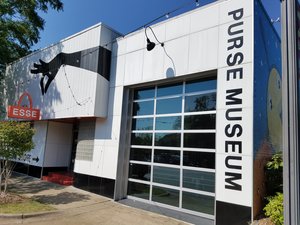 Hidden gem
Although located about a mile from the busier, more visited, Arts District, and River Walk, the museum is well worth tracking down. The bright white stand-alone building, with an arm and hand-painted in silhouette, holding a purse-shaped Esse sign, is easy to spot. However, if you miss the sign, huge black letters reading, Purse Museum, running lengthwise from the flat-topped roof to the ground, let you know that you've arrived.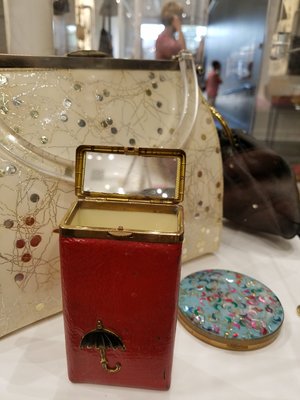 What's inside?
Separate display cases arranged by decade house several beautiful purses and the likely contents of the era. Each case includes small plaques describing the design and construction of handbags during the period displayed.
A century of women and handbags
In the early 1900s, women's purses evolved from small wrist bags designed to hold a few coins and perhaps some smelling salts, to larger carry-alls to hold items such as a handkerchief and powder puff. As the decade progressed, contents may have also included a bank book, a change purse, and house keys.
In the 1910s, handbags were designed with compartments to include cosmetics and accessories like vanity bags, and manicure and cigarette cases. In the 20s, purses were more ornate, embellished with beads, glitter, and feathers. Contents may have included perfume and bejeweled compacts and lipstick cases.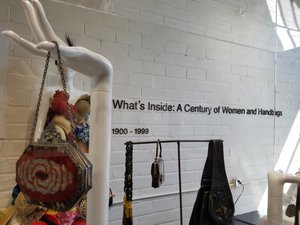 In the 1930s, purses became a way for women to add some style to their wardrobe at a time when clothing was simple and sturdy. The 40s brought about the advent of the 'clutch' purse as women looked for a more elegant, feminine design.
Purses in the post-war 1950s ranged from expensive leather designer bags to colorful Lucite styles. Contents in this decade were likely more family-oriented, like trading stamps, coupons, candy, and toys for the children. The shoulder bag came back into fashion in the 1960s as the unconstructed 'hippie shoulder bag' became the trend which continued into the early-1970s. However, later in the decade, with the advent of disco, a woman's purse was more likely a sleek leather bag carrying essentials like a small brush, some money, and maybe even a little cocaine.
By the 1980s, the working woman, consumerism, and a fitness boom led the way for fashion. Purses during this time were over-sized shoulder bags that could carry everything from athletic shoes to wear to/from the office, to business cards and calendars. By the mid-1990s, a return to smaller, softer bags was in vogue, and women tended to spend more on a designer bag than on clothes. As the decade progressed, purses got larger to make room for a cell phone, pager, and later, a laptop.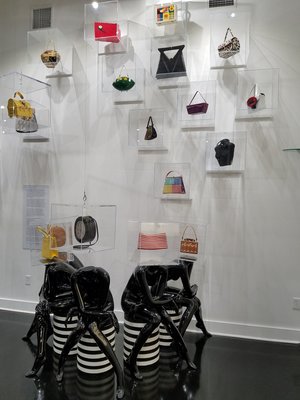 Hello ladies
The museum includes intriguing art installations―like the circle of glossy, black mannequins, each with a purse in an acrylic box hanging over them in place of their heads. There are also photographs and other imaginative tableaus to add to the museum's visual narrative.
At the end of the exhibit, there is a scale where women can weigh their handbags and list the weight in a nearby guest book. It's a fun reminder that the story of women and purses continues.
About Susan Brauer―Susan is a freelance writer and speaker living in Minneapolis Minnesota. She is an avid traveler, excited to explore new places in both the US and internationally. Her favorite place to travel is wherever she's going next. Susan is a member of the International Travel Writers and Photographers Alliance (ITWPA).