By Shelli Elledge
ITWPA Member
Photographs by Ron Elledge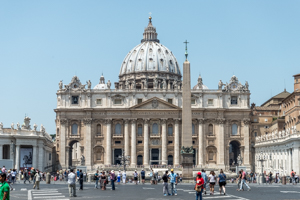 We felt like kids in a candy store, giddy with anticipation. Arriving an hour before regular hours, our small tour group of 10 had the marvelous Vatican almost to ourselves!
Determined, but certainly not rushed, our tour guide, Camille, led us through sunlit hallways of the ornate museums and past delicate frescos, notable sculptures, and famous works of art too numerous to mention.
She led us through the former living quarters of previous papal dignitaries, including the chambers of a not-so-popular pope during the 15th century. In the Gallery of Maps, we learned about the impressive accuracy of these frescos, even though they date back to Gregory XIII, an adventurous pope who was also a lawyer.
We learned about the lives of the famous artisans, Roman history, and connections to present-day events, all while weaving our way through what seems to be a maze of opulence.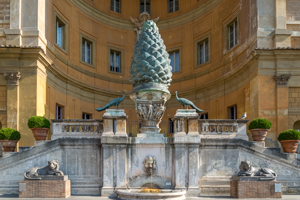 To get to the Sistine Temple, we exited one building, walked across a lovely courtyard where the colossal bronze pinecone is located, and then entered another structure.
It was rather plain on the outside, plain brown and not at all what I had expected. Our eyes had to adjust to the dimly-lit room as we crossed the threshold of the small doorway and down two steps onto the original tiled floor.
Is this it? Could this be the famous Sistine Chapel?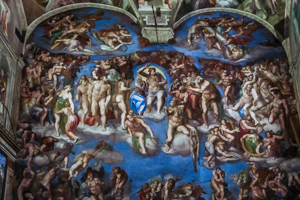 The large rectangular room is almost empty and void of ornamentation when compared to the formality and splendor we had just passed through. The quietness is automatic and almost piercing. At first, I surmise that it's out of respect for the artist more than anything else. But the deep tranquility brings a feeling of something or someone more powerful than ourselves.
As our eyes looked skyward, we could hear several members of our group quietly gasp at the sight of the famous ceiling of the Sistine Chapel. It was even more spectacular than in pictures!
If you're planning to visit Rome, I would recommend a guided tour of the Vatican and the Sistine Chapel. We used the Walks of Italy website to schedule, and we requested a small group tour.
If you go:
Vatican and Sistine Chapel tours are almost four hours long. Prices are currently €89 (US$87) per person.  Address is https://www.walksofitaly.com.
If you would like to purchase this article for your publication, please click here to contact the author directly.