By Noreen L. Kompanik
ITWPA Member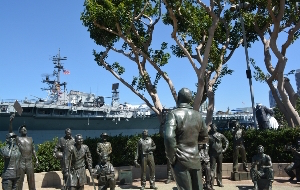 Bob Hope is immortalized in the city of San Diego. How fitting. In the county that hosts the largest military population in the U.S., bronze statues of the entertainer and his military audience stand in the dramatic backdrop of a majestic retired aircraft carrier overlooking the sparkling blue waters of San Diego harbor.
For a span of 50 years, Bob Hope entertained the men and women of the Armed Forces in every war and conflict since World War II. From war-ravaged Europe to the cold wasteland of Korea and from the steamy jungles of Vietnam to the desert heat of the Middle East, Bob Hope tirelessly brought humor and comfort to countless homesick servicemen desperate for a brief respite from the misery of war. Dressed in military fatigues and displaying his unique, irreverent humor, he became one with his audience, bonding with them in a personal way. He became the witty guy in the next foxhole, commiserating with them about their officers, the weather, the enemy, and the politics that got them there. And he made them laugh.
The "National Salute to Bob Hope" is an amazing likeness of the actor entertaining 15 avid listeners from all different wars, all different services. One missing a limb. One, wearing a cast, in a wheelchair. One sketching the image of Bob Hope, capturing it forever in her memory. These servicemen and women would rather have been any place than where they were. Yet the beaming smiles on their faces reveal that for a brief moment, this clever man of humor made them forget their plight.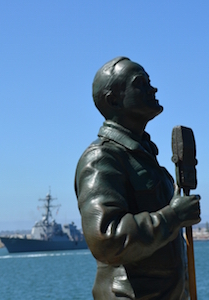 A modern aircraft carrier lies moored across the bay. A Navy destroyer gets underway while a military helicopter circles overhead. No setting could be more appropriate. One can almost hear Bob joke to his rapt audience about the USS Midway behind them. "That ship stays at sea a long time. They only go back to port when the chaplain asks to see a chaplain… To give you an idea how long these guys have been at sea, they just made Phyllis Diller their pinup girl." And the crowd roars.
A retired Navy captain stands next to a sad, disheveled man and asks, "Do you think today's generation can even understand what he did for us?" The man quietly responds, "I saw him in Da Nang in '69. He was incredible." Then adds wistfully, "I'm not sure they even have a clue."
Bob Hope was proclaimed an Honorary Veteran of the U.S. Armed Forces in 1999. Despite being in poor health, he tearfully exclaimed, "I've been given many awards in my lifetime, but to be numbered among the men and women I admire most is the greatest honor I have ever received." He passed away in 2003 at the age of 100. But he lives on today in the hearts and minds of countless thousands of servicemen and women whom he brought comfort to when they needed it most.
From those who served and those who remember, thanks for the memories, Bob.
If you would like to purchase this article for your publication, please click here to contact the author directly.