Writing and Photography by Linda Popovich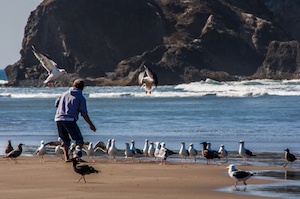 The Oregon Coast is one of the most beautiful stretches of beach in the world and a dream vacation for photographers. Crashing waves, seabirds and seals, beautiful beaches, rock formations — and that's just the beginning of what you will see. In fact, the biggest problem is figuring out where to go, where to stay, and what to shoot, because there are so many choices it's hard to know where to begin.
To save you some time and effort, here's a photo trip itinerary. Three of us — all photographers — planned and took this trip in September 2012. It was a major research project. We used guidebooks, tourist information, the internet, and other photographers to pick out where to go, what to shoot, and where to stay. Use it as a starting point for planning your trip. You can follow it exactly or pick out the parts that sound most interesting to you.
As photographers, choosing the right place to stay is very important, so we had some criteria. Since photographers wake up early for sunrise shots and stay out late for sunset shots, we wanted hotels that would make our lives as easy as possible. Each hotel needed three things. One, easy access to the places we wanted to shoot, since we wanted to drive as little as possible at each destination. Two, comfort, space, and power outlets. We also wanted comfortable beds, some table space to set up our laptops, and lots of power outlets to keep our batteries charged. Three, in-room coffee makers — vitally important for those early mornings.
First Stop: Southern Oregon Coast at Bandon
The trip starts at the southern coast in Bandon. The Coquille Point Wildlife Refuge was our shooting destination. This area has a beautiful, clean, wide stretch of beach littered with rock formations to be explored. At low tide you can get close to or even walk around the rocks, letting you shoot from different viewpoints, climb on the rocks for new perspectives, and photograph their reflections as the waves move in and out.
The beach view changes throughout the day. You might wake up to thick fog in the morning for atmospheric photos of rock formations. On clear evenings you'll get sunset shots. During the day explore the rock formations, or get shots of kids playing on the beach and people walking their dogs. If you're lucky you'll find galloping horses along the beach or seals resting on the rocks. It's an ever-changing scene. But don't get the idea that the beach is crowded — it's not! You'll fall in love with the scenery and the absence of crowds.
From the steps of the wildlife refuge you can wander south along the beach to Face Rock and beyond. Face Rock is a large rock formation resembling a face. At low tide if you walk north you'll end up in Old Town Bandon.
We stayed at the Bandon Beach Motel (www.bandonbeachmotel.com). It's the perfect location for access to the wildlife refuge — just walk out the door of your hotel room and you have arrived! The steps down to the beach are literally just outside the back door. No driving required.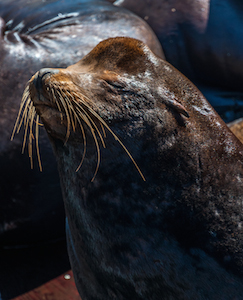 The Bandon Beach Motel sits at the top of the bluff beside the wildlife refuge and packs a punch because of its location, and also the views. Every room has an ocean view. It's the first thing you'll notice when walking into your room — and you'll spend quite a bit of time looking out the windows admiring it when you're not outside shooting.
Our newly remodeled room was spacious, clean, and comfortable. Besides a coffee maker, we also had a refrigerator and a microwave, perfect for a small breakfast before those early morning beach shoots. And we didn't need to drive anywhere in the morning — we just walked out the door and started shooting. Perfect.
Only a few minutes away by car is Old Town Bandon, a small historic town packed with enticing places to eat, drink, and shop. It's worth a visit for meals, shops, and some photography. You can get some great shots of the Coquille River Lighthouse from the shore at the South Jetty Park or behind Edgewater's Restaurant.
Central Oregon Coast: Florence and the Sand Dunes
Leaving Bandon, head north to Shore Acres State Park. Shore Acres has a beautiful garden (in the spring and summer especially) and a sensational view of the ocean with rugged rock formations. During stormy weather you'll get some spectacular crashing waves, and in the winter and spring you might catch a glimpse of migrating whales offshore.
Continue north to the Oregon Dunes National Recreation Area. These beautiful wind-sculpted dunes stretch for forty miles from Florence to Coos Bay, and they provide opportunities for photography, hiking, dune buggy rides, fishing, camping, and more. They also offer many alternatives for peace and solitude if that's what you prefer.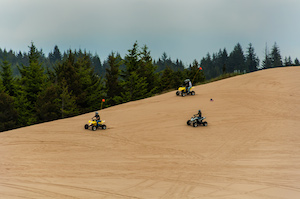 If a dune buggy ride sounds like a good time (and it is) you can stop just south of Florence at Chuck Chapman's Sand Dunes Frontier (www.sanddunesfrontier.com). Take the Sand Rail Tour for an exhilarating ride up, down, and around the dunes. You'll see expansive vistas of the dunes, look at tree islands among the dunes, and feel something similar to a roller coaster ride as you are driven up and down the sandy hillsides. (Don't eat a big meal beforehand.)
When it's time to relax and settle in for the night, the Driftwood Shores Resort is an ideal location (www.driftwoodshores.com) — every room has a large expanse of beach and a view of the ocean. This resort has every kind of room, from a standard queen or deluxe king to one-bedroom suites and three-bedroom condos. We stayed in a three-bedroom condo and couldn't have been happier. It was like being at home — with a much better view.
The resort also offers a restaurant (excellent food), a lounge, an indoor heated pool, and an aquatic area just for kids. Driftwood Shores Resort is located only a short driving distance from the Oregon Dunes National Recreation Area, Historic Old Town Florence, and the Heceta Head Lighthouse, so it's a perfect location for photographers.
North Central Oregon Coast: Newport
Heading north out of Florence you'll see Heceta Head Light. (This lighthouse was under renovation when we visited, so it was not very photo worthy.) Continue north just past Newport to the Inn at Otter Crest.
The Inn at Otter Crest (www.innatottercrest.com) is a perfect hotel location because it is situated between the Devil's Punch Bowl and Cape Foulweather. Take a short walk along the trail from the hotel to the Devil's Punch Bowl or a two-minute drive to Cape Foulweather.
It's also just a short drive to Yaquina Head Nature Area and the Yaquina Head Lighthouse. We visited this area twice — first to scope out the scenery early in the day so we could plan our sunset shoot of the lighthouse and play around on the black pebble beach, and later in the evening to do our sunset shoot. You can get some beautiful sunset shots from the back of the lighthouse shooting towards the ocean. For a different perspective, shoot the lighthouse from the black pebble beach.
Newport is about eight miles south of the Inn at Otter Crest. Plan to spend an afternoon wandering around the historic waterfront enjoying a fresh seafood lunch, taking photos of harbor seals, boats, and all around the waterfront, and wandering in and out of the multitude of shops and galleries.
At night settle into your condo at the Inn at Otter Crest and listen to the ocean waves as you download your photos from the day. And in the morning you have a full kitchen in the condo to enjoy a hearty breakfast before heading out for another day of shooting.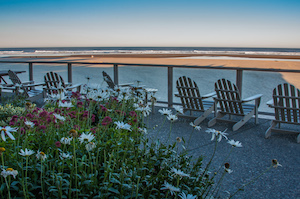 Northern Oregon Coast: Cannon Beach
Heading north out of the Newport area, make a stop at Cape Kiwanda. Plan to spend a couple hours here. It's so packed with photo opportunities. The first thing you'll notice is Haystack Rock just to the right of the parking lot. Head up the path along the bluff for great views, rock formations, and waves crashing against cliffs as you hike along the trail. You won't run out of things to shoot.
Then continue north to Cannon Beach. Cannon Beach is a popular and well-developed resort town with plenty of restaurants, shops, and galleries. And for the photographer there are wide expanses of beach area, rock formations, and tide pools — plus lots of beach action for some great beach-street photography.
We settled in at Land's End at Cannon Beach (www.landsendcb.com), a non-smoking, boutique, pet-friendly hotel with suites, studios, and a fabulous location on the beach. Just a short walk north of Haystack Rock (yes, another Haystack Rock), you can wander out at low tide and explore the tide pools, catch the sunset from the private deck at the back of the hotel, and go for a beach walk any time of the day.
The Land's End hotel is located in the middle of the town, close to shops and restaurants. Whether it's a morning latte you crave, or another gourmet seafood meal, it's all within easy walking distance. We didn't need to walk more than a couple blocks to find everything we wanted.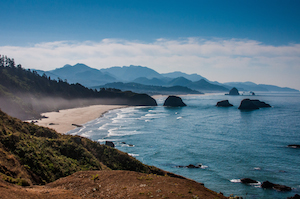 If you tire of exploring the beach and tide pools or catching the pelicans flying over the surf, head a few minutes north to Ecola State Park. Here you'll find sweeping views of Cannon Beach from Ecola Point. But that's not all. There's much more to explore in this park and I'd recommend planning to spend the best part of a day here. Pack a picnic lunch and a few drinks along with your camera gear and you will stay busy for hours.
How long should you stay in each place on the Oregon Coast? Staying at least three nights in each place gives you a variety of lighting conditions, tides, and weather for your photo shoots. And it gives you enough time for seeing the sights while traveling between places.
You could just as easily spend a week at any one of these Oregon Coast locations — there's so much beauty packed in. But no matter where you go on the Oregon Coast, one thing is certain. Once you get there you won't want to leave — so plan to stay as long as possible.
If you would like to purchase this article for your publication, please click here to contact the author directly.