By Janet Couper
janetcouper@ns.sympatico.ca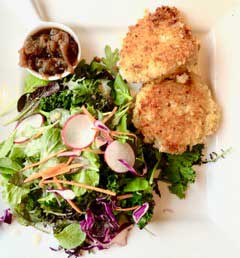 Rebecca's culinary team consistently creates intriguing dishes with local organic produce, fresh seafood (or free-range meat), and innovative mixes of herbs to punctuate dressing blends. The restaurant's menu provides a choice for every palate. A modest bar offers an eclectic array of local and imported beer and wine. Mouth-watering seasonal desserts are baked daily on-site.
The restaurant's interior decor is funky and comfortable. Tables with mismatched antique chairs and booths provide seating in the L-shaped space. Exquisite local art on mellow orange walls creates an artsy atmosphere.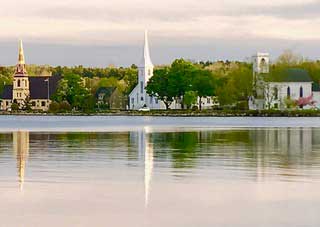 The restaurant's front windows frame the famous view of the Three Churches. As sunset approaches, their reflections shimmer upon Mahone Bay's calm waters.
When visiting Nova Scotia's South Shore, be sure to make time for a remarkable experience in child-friendly Rebecca's Restaurant.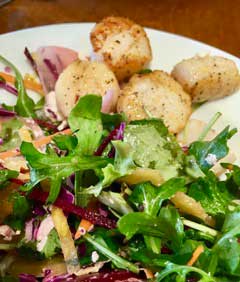 Vegan, vegetarian, and gluten-free options are available upon request. Moderately priced, well-balanced meal choices. Pristine washrooms. Courteous servers. Ample free parking.
Open seven days a week from 11 a.m. to 9 p.m.. Learn more here.