By Roderick Eime
A blast of fresh, rarefied air and chilled mountain water might be the tonic you're after.
Two thousand feet above the valley floor and the snow-dusted peaks still tower above us like dizzying frosted spires. The air is crisp and as clear as Swarovski crystal in the rarefied atmosphere of New Zealand's Southern Alps. The Tasman Sea is easily visible in the distance beyond Milford Sound.
Pilot Scott banks the tiny Heliworks Squirrel around the near-vertical wall of a mighty massif and I find myself gazing one kilometer straight down to the turbid white waters of the Dart River where a fully laden jetboat twitches energetically upstream. Scott's eyes are fixed on a tiny flat section along the ridge line above Bryant Glacier and the aircraft is cautiously delivered onto a surface as smooth and white as a wedding cake.
Lake Wakatipu, at 50 miles, is New Zealand's longest lake. The surface is 1,000 feet above sea level, but the depth extends 300 feet below and all around is some of the most dramatic scenery on the planet. We've all seen it in blockbusters such as Lord of the Rings, but the movie credits roll on to include Narnia, The Water Horse, 10,000 BC, X-Men (Wolverine), and too many shorts and TVCs to mention. A Korean prison movie set built by Disney in 1988 still presides ominously over Queenstown airport.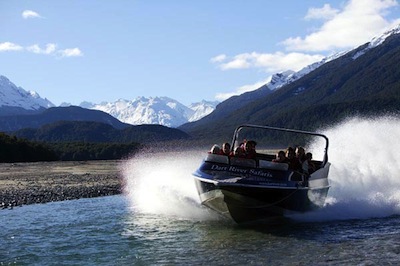 Away from the white-knuckle adventure playground of Queenstown, the tiny hamlet of Glenorchy at the northern end of Lake Wakatipu encourages a more thoughtful, relaxed form of adventure. Okay, so the Dart River Safaris jetboat blasts thrillseekers upriver in a 70-minute slingshot — but then it leaves them to paddle serenely downstream again through chasms and gorges in an inflatable canoe called a Funyak.
The sleepy lanes of Glenorchy are not burdened with squads of raucous merrymakers and lumbering tour buses; instead, austere timber cottages, bungalows, and verandahs line the roads while unflustered locals stroll leisurely down the curbless bitumen, wicker baskets in hand.
The sparsely populated, tranquil South Island of New Zealand certainly performs at either end of the energy spectrum. ZORB balling, bungees, and canyon swinging all have their places, but not in Glenorchy. Instead the more genteel pursuits of fly fishing, tramping, horseback riding, and canoeing find advocates seeking relief from the more boisterous pastimes.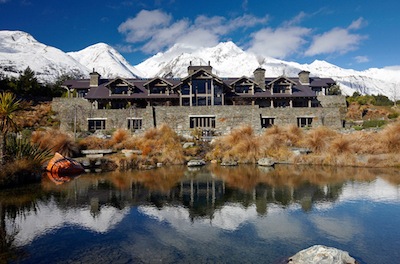 Just a stroll from 'downtown' Glenorchy is Blanket Bay, a nook on the shoreline so named because of the rough shelters erected by itinerant shearers working the flocks there over a century ago. Today, Blanket Bay is anything but rough. Instead it is the site of one of the world's most consistently awarded luxury lodges.
Established in 1999 within the 65,000-acre Wyuna Station, the main lodge is constructed with an alpine flavor, yet utilizes local and imported materials to create a distinct, recognizable persona. The structure of the main hall is comprised of well-weathered timber beams recovered from disused railway bridges. When this supply was exhausted, massive pylons from Brisbane's demolished wharves were shipped in and the detail work was completed with hand-distressed cedar on the staircases and paneling. The schist stone architecture is exceptional and a massive picture window plays the soft light reflected from the lake and adjacent ranges throughout The Great Room as you flick the pages of your morning paper.
Dining at any of New Zealand's so-called "super lodges" is a lavish affair, yet Blanket Bay manages to exceed even those lofty standards, with accolades for chefs Mark Sycamore and Joseph Clark at the recent World Association of Chefs' Societies regional challenge. Gongs at the World Travel Awards, thumbs up from finicky luxury arbiter Andrew Harper, and a Gold Listing by Condé Nast all put their reputation beyond dispute.
Back on the mountain, more than 3,000 feet above the lake, the view is exhilarating and almost an out-of-body experience. The lodge and its private wharf are just discernible on the opposite shore while the village of Glenorchy appears just like it does on Google Earth. There's a troubling subconscious urge to launch myself into the liberating thin air, but a gentle call from Scott reminds me the best way down is in the Squirrel, and we fall gently onto the lawn in front of the lodge. Manager Philip Jenkins reaches for the door and welcomes me back, reconfirming my connection with terra firma.
Our modern, time-precious lifestyles barely afford a moment's respite from the confines of the corporate dungeon, yet intensive distraction therapy is at hand. Hurl yourself headfirst into the relaxation or escapism as your taste dictates. The hardest part will be coming back to Earth.
If you go:
Blanket Bay Lodge is a pleasant half-hour drive from Queenstown airport, or just minutes by helicopter. Summer rates begin at US$828 per room per couple inclusive of breakfast, dinner, drinks, and full use of facilities. Book activities separately. www.blanketbay.com


Air New Zealand flies direct from LAX to Auckland, then connects to Queenstown. See www.airnewzealand.com


Heliworks Queenstown joy flights are available from US$166 per person (30 minutes). See www.heliworks.co.nz
If you'd like to purchase this article for your publication, click here to contact the author directly.