By Rey Waters
ITWPA Member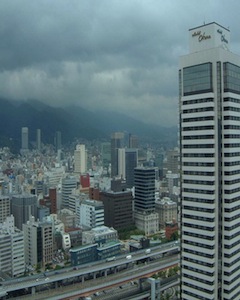 For those who like breathtaking views, but don't want to climb Mt. Fuji, try tower hopping!
Every major city in Japan has a tower with an observatory. During our past two Japan trips we visited six unique towers. The prices range from 600 yen ($7.75) to 820 yen ($10.50) to ride to the top. All are easily reached via train and/or bus.
Kobe, scene of the devastating 1995 earthquake, has a tower (302 feet) at its port located in Meriken Park. Even on a cloudy day it is still a worthwhile view. The tower was built in the shape of a tsuzumi (a traditional Japanese musical instrument). On the observatory floor is a rotating café and of course a gift shop. In the distance you see the Rokko mountain range and up close the skyline of Kobe. On a clear day we were told you can see the city of Osaka.
In Osaka (Japan's third largest city) there are two towers. The floating garden tower (558 feet) is located at the Umeda Sky Building in Kita-ku business district (North Osaka). The building is recognizable due to the bridge connecting its two 40-story towers. Take the elevator and then the escalator to the rooftop observatory. In the basement of this building is an underground market built to resemble old Osaka, and you can enjoy one of the many great coffee shops found throughout Japan.
A taxi ride took us to the Shinsekai area (traditional old Osaka) and Tsutenkaku tower (338 feet). This one was patterned after the Eiffel Tower. We observed a completely different view of the city. On the fifth floor of the observation tower is the Billiken statue (God of Happiness). Touch his feet for good luck.
The Kyoto tower (433 feet) is the tallest building in the city, right across the street from the train station. You can see the many historical shrines throughout the area.
Yokohama Marine tower at 358 feet has a two-floor observation deck and a beautiful view of the harbor. Yokohama was the first area in Japan to open trade to the outside world.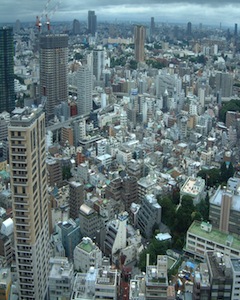 Of course there is the famous Tokyo tower, the world's tallest self-supporting steel tower (1,091 feet), found in the Minato district of Tokyo. The view leaves you awestruck as to how many people live in this huge city.
There are many more towers throughout Japan and our desire is to visit them all. The newest is the Tokyo Sky Tree, which will open in spring 2012. It is located in the Sumida Ward. The tower is 2,735 feet, making it one of the tallest in the world.
This is an inexpensive way to get a high-up view of the great cities of Japan.
If you'd like to purchase this article for your publication, click here to contact the author directly.
Additional photos available upon request.