By Annette Freeman
ITWPA Member
Twelve hours in Japan — what would YOU do? Traveling via Narita Airport in Japan can mean a convenient route or airfare savings, but can also result in a long layover in an airport two hours or more from the center of Tokyo. Here's how I spent a 9 a.m. to 9 p.m. layover.
First, I checked into a day room at the Narita Rest House and took a shower. The Narita Rest House, despite its attractive, traditional-sounding name, is in fact a cheap, run-down airport hotel. Never mind — the room had a shower and a bed, and one of those amazing over-engineered Japanese toilets.
Refreshed, I headed off with a guide, Kaoru, and a cheerful driver, both pre-booked through WAK Japan.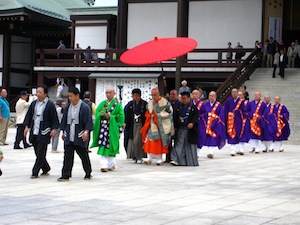 We made our way into Narita City, our object the local temple known as Naritasan. This is a principal Shingon Buddhist temple, founded in 940. It is an impressive complex of buildings and gardens approached by several long and formidably steep staircases. By chance, we had fortunately arrived on the day of the annual fire-walking ceremony. Naritasan is dedicated to a deity named Fudōmyōō, who is associated with flames, which allows the monks to play with fire quite a lot.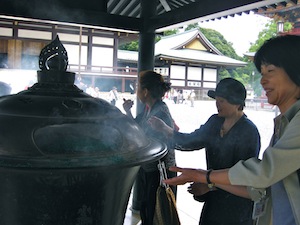 The main ceremony involves the lighting of a sacred fire. It seems that if you wave your belongings in the general direction of the flames, they absorb some spiritual potency, so the ceremony ends with the monks carrying armloads of cheap handbags and waving them in the flames before returning them to their pious and hopeful owners. Outside, since this was a special day, other monks were lighting a large bonfire and performing various rites of chanting, dancing, and fierce-sounding invocations around it. Later, they would walk on the dying embers.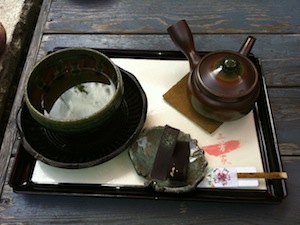 Kaoru and I then wandered up a nearby street where vendors were getting ready to quell the appetites of the faithful with a variety of unidentifiable foodstuffs, including a kind of jellied eel, the local specialty. Seeking refreshment, we walked down a small alley leading off Omotesando Street, opposite the Narita Tourist Pavilion, and found a lovely little tea garden complete with koi pond and red parasol umbrellas. Kaoru helpfully ordered some Japanese tea (strange sludgy stuff) and sweets (a red bean paste thingy), which I drank and ate, feeling quite Japanese. Well, a tiny bit.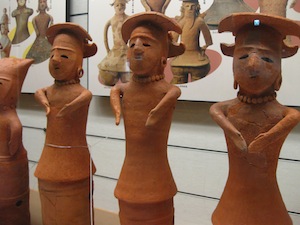 After this interlude, we set off with our cheerful driver to Sakura City, about 30 minutes away. Our goal: the National Museum of Japanese History. Once inside, Kaoru and I wandered through the galleries on the early Paleolithic age through the Nara period (8th century); daily life up to the 16th century including the Heian court and everyday lives of samurai and a wonderful model of 16th century Kyoto; and the culture of the Edo period up to the 18th century. Kaoru kept exclaiming (in a refined, Japanese kind of way), "This great treasure!" and "Look here! This very famous!" We found marvelous scrolls that had been preserved for centuries buried in metal canisters; detailed, painted screens showing life in ancient Kyoto and Tokyo; and some very well-preserved ancient pottery.
This is indeed a great museum, though very rarely visited because of its distance from Tokyo. It was a busy Sunday at Naritasan, but there was hardly anyone in the Museum. Not only is the Museum worth a visit for its contents, but it also sits in a beautiful botanical park known as Sakura Castle Park. Sakura Castle, of which some remains still exist in the park, was founded in the early 1600s. Sadly, a mere stopover did not give enough time to explore — maybe next time.
Then it was back to the Narita Rest House for a few hours of shut-eye (and another look at that amazing toilet) before the next long-haul flight leg.
If you'd like to purchase this article for your publication, click here to contact the author directly.