By Heather Chamberlain
The sun is setting behind us as we make a sharp left turn into the hotel entrance, and we are immediately transported into a tropical oasis. We are greeted by rich emerald plants and arched palm trees that seem to bow to us as we drive down the narrow path. Just an hour ago we were wedged in traffic, being hypnotized by the constant glare of flashing red lights. Now we are being guided by the tiki torch lights that line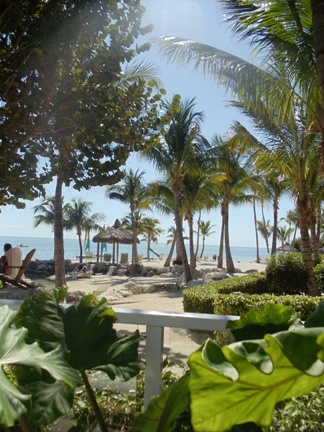 the entrance of the Cheeca Lodge Resort & Spa.
This historic resort sits on 27 acres of ocean-front property in Islamorada, known as the "Village of Islands," in the Florida Keys. Cheeca Lodge sets itself apart from neighboring establishments by taking the traditional "keys" style to the next level. The interior décor has an elegant West Indies motif of dark mahogany furnishings, palm tree lamps and exotic flowers. The exterior design is of interwoven paths that lead to secret lagoons with inviting waterfalls.
Luxury radiates from every inch of the property, starting with the automatic French doors that sweep you into the lobby with its panoramic view of the ocean. Welcome to your tropical playground! By the time you are done sipping your complimentary champagne at check-in you will have forgotten all about work and the stress you have left behind. Within minutes of your arrival you will be transformed into a deep state of utter bliss and relaxation.
Cheeca Lodge boasts all the amenities and activities you need so you never have to leave the resort. It is well-equipped for both idle and active visitors. If you are there to rest and unwind, then the ocean-side pools, secluded lagoons, and lavish spas are at your service. Most guests tend to gravitate towards the tiki hut that offers a full service bar and a picturesque view of the ocean. You could spend hours there listening to the chatter of seagulls, sipping creative cocktails, and snacking on the fresh catch of the day.
If you are feeling guilty about your multiple afternoon naps by the pool, you can walk a few steps to the rectangular hut on the beach that offers water activities including sunset cruises, eco-tours, boat charters, kayaking, and fishing. You can also occupy yourself with the resort's 9-hole golf course or play a game of tennis surrounded by an audience of jungle-like plants. Don't worry if you forgot your racquet — the resort rents out all necessary equipment at no charge.
Cheeca Lodge has mastered the art of relaxation. This quickly became apparent to us as we sat at the tiki bar and chatted with a couple from England who had been at the resort for almost a week. When I asked for the time, one of them looked at me with a blank stare and replied, "We haven't looked at our watches all week. I think we forgot how to tell time." Now that is a sign of a good vacation.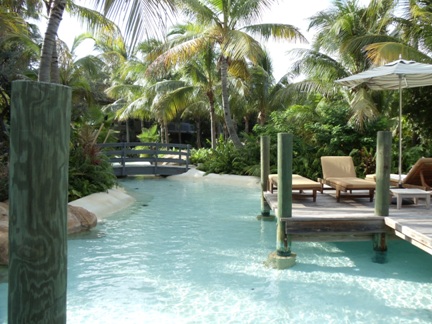 You can find out more about Cheeca Lodge Resort & Spa at www.cheeca.com. Standard rooms start at $284 and are not inclusive of the resort fee of $39 per day plus a 12.5% tax per room.
If you'd like to purchase this article for your publication, click here to contact the author directly.