By Anya Weimann
Sliding over a faultless emerald lagoon, smooth coral sand pushes ashore onto a sheltered haven rimmed by lush green palm fronds and tropical plant life, forming what is claimed to be one of the world's most scenic playgrounds.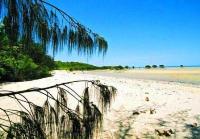 Welcome to Cape Tribulation in the Daintree rainforest, far North Queensland, a patch of land "where the rainforest meets the reef" — literally.
Without doubt, this is one of the most picturesque arrivals of my life, a spot that some people call heaven on earth, while others simply refer to it as one of the Seven Natural Wonders of the World. One of the most breathtaking coastal areas in the world is at my disposal — tropical paradise, here I am.

Cape Tribulation is considered one of the gateways to the Daintree rainforest, located two and a half hours from Cairns and one and a half hours from Port Douglas. The cape was aptly named by its founder, Captain Cook, since it was just a little north of the cape that his tribulations first occurred in the late 1700's when he ran his ship into the Endeavour Reef.
In terms of location, this area is more than blessed: it's surrounded by the tropical Great Barrier Reef and the lush jungle fringes of the Daintree. This unique feature makes it the only place in the world where the rainforest runs right up to the coastline and the ocean.
Cape Tribulation offers adventures for everyone, ranging from families to budget travellers and luxury and economic escapists.
While luxury island getaways and remote island resorts are available, I prefered to stay on a tight budget and close to nature, choosing the Cape Tribulation camping ground as my destination.
Located about 160 km north of Cairns on the coastal road to Cooktown, Cape Tribulation Camping offers a perfect coastal camping scene that caters to campervans, caravans and motor home vacationers. It offers absolute beach-frontage with powered and un-powered sites alongside several other amenities that a happy camper needs: a fully equipped camp kitchen with free BBQ areas, showers (mostly hot in the morning and cooling down during the day), and a small kiosk with friendly reception that sells local products like homemade passionfruit ice cream and the creamiest yogurt I ever tasted.
During my stay on Cape Tribulation, it becomes clear that I have fallen for this spot — who wouldn't? My time here is slow and relaxed. Each day begins with a chorus of tropical birds and the sound of waves crashing to shore. Most days I rise early to stand at the very top of Cape Tribulation where the ocean laps a bed of stones smoothed softly by the tides, overlooking nothing but an endless sea that paints all possible shades of blue. In the morning hardly anyone else is awake, except for a few residential orange-footed Scrub Fowls who are also enjoying the peacefulness of dawn. The absence of modern staples like TV, internet and phone contributes to this picture-perfect getaway — it forces me to grasp the opportunity to wind down and relax, away from my hectic city life.
The daily activity board at Cape Tribulation offers to keep me busy. But most of my days are spent without any particular purpose, aside from basking in the warm tropical sunshine, shell seeking, snorkeling along the shore or walking on some bush trails that wind their mysterious ways through the Daintree.
Motorized activities are on offer, including 4WD safari tours, jungle walks and diving trips out to close-by islands — and of course to the Great Barrier Reef, the largest living coral reef on earth, stretching almost 2000 km along the Queensland coastline. I pick a diving trip to the reef, only to find that I prefer to spend my days here on shore in the shade of some palm trees, exploring the surroundings by myself, away from the heat and hectic tourist hotspots.
Evenings are spent under the most sparkling stars I've ever come across. Picture this: black velvet sky, splattered with millions of twinkling stars; wide-open spaces with only the sounds of the crackling campfire and the lapping of waves. For the first time, stargazing comes naturally. I can spot the Milky Way, the Great Wagon and other constellations — things I'd never seen before. Add the sweet aroma of some barbequed fish with a sprinkle of sea salt and some chilled white wine, and I can assure you that you won't want to be anywhere else.
Everything must come to an end. Upon my departure, I bid farewell to the picture-perfect scene where, doused in heavenly blue, coral sand melts into the smooth skin of the sea, and I pay tribute to the Cape that deterred all of my daily tribulations.
If you wish to purchase this article for your publication, click here to contact the author directly.