By Heather Rath
Please don't feed the jaguars.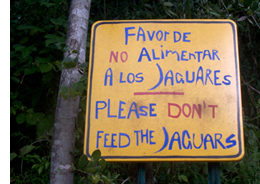 The sign jolted us to a stop as we wound our way along the bumpy road to Villas Ecotucan (www.villasecotucan.info) on Lake Bacalar in Mexico's Yucatán Peninsula.
"Are there really jaguars around here?" we ask Jacqueline, our hostess and nature guide.
She smiles and nods. "My husband spotted one along the road here and was so excited because these cats are rare."
We have arrived, with no reservation, at a small ecovillage where each of the five cabañas boasts solar-heated water and solar-run electricity. Palapa-roofed with mosquito netting over the beds,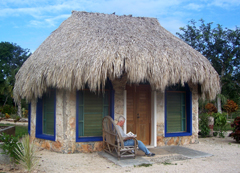 the circular rooms with their six windows draped in multi-coloured curtains look out to lush gardens. A little lizard clinging over our bed at night makes us thankful for the netting.
Scarlet poinsettia, huge agaves, tall prickly pear cacti, ruby bougainvillea, lush tropical plants and fruit trees dot the well-manicured lands that lead to the edge of Lake Bacalar. There, a dock and palapa-covered shelter with a hammock wait for your bare feet and rat race-weary body.
Lake Bacalar is renowned as Mexico's second-largest freshwater lake, a national treasure that shows off seven different shades of blue-green, depending on the depth of the water and the angle of the sun. Here you can enjoy kayaking, boating, and swimming.
In this beautiful setting, we trek a jungle path (no jaguar yet!) and experience fabulous bird watching each morning. Flocks of squawking green parrots, luminous orange orioles, translucent hummingbirds, yellow-breasted kiskadees, red-headed flickers, brilliant golden warblers and majestic hawks are regular sightings: a birder's paradise.
In the evenings, we stroll to the dock under the light of the moon and watch the reflection on the calm waters. We know we have discovered nirvana.
Fast Facts: Villas Ecotucan is located at Km. 27.3 along the Cancún – Chetumal Highway 307, four hours from the famous tourist destination. Cabañas are Mex$550 (Mexican pesos) per night, about US$38.
If you wish to purchase this article for your publication, click here to contact the author directly.