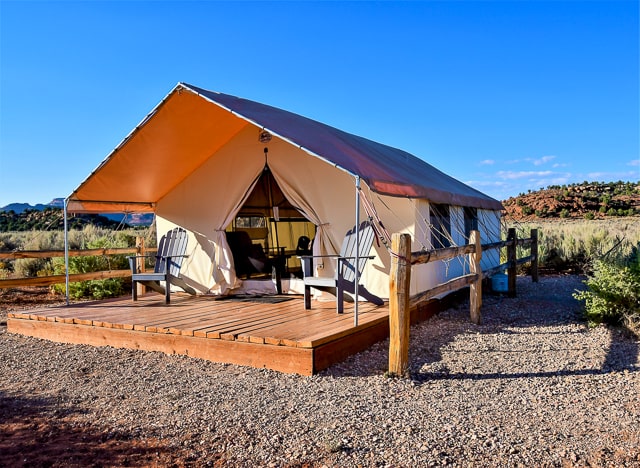 In Kanab Utah, we found luxury lodging in the desert. We weren't camping; we were glamping. Glamorous + camping = Glamping.
Watching the stars come alive in the magnificent southern Utah sky was so much better than television. Imagine, taking pictures of the Milky Way. That is what we did for about an hour. With no light pollution, star photography looked darn good for my first attempt.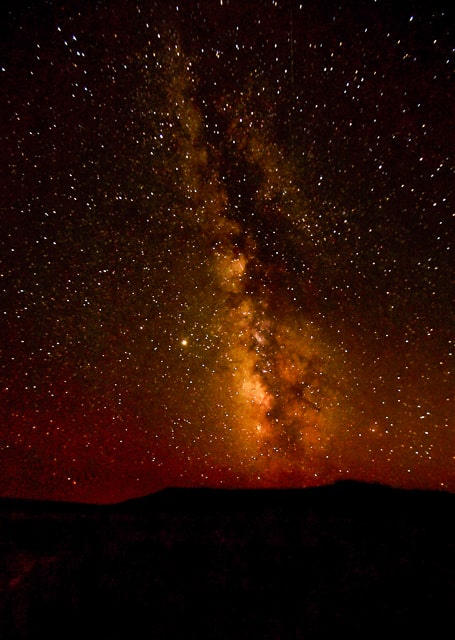 We turned in, snuggling under the weight of the covers as a gentle breeze ruffled the tent straps, lulling us to sleep.
Amy Affeld and her husband, Curtis Wilson, visited in the area, hiked in the area, and finally bought land in the area—just outside Kanab. They decided it was perfect for a glamping location after trips in Washington and Africa. Basecamp 37° was born.
Basecamp 37° is a non-campers' dream. It is secluded yet only eight miles from Kanab, so it is close to anything you need. Of course, owner Amy had me at 'California King' bed when she described the five safari-style tents available for nightly rental. Glamping is a perfect solution for campers who fly into the area, eliminating the need for packing tents or equipment.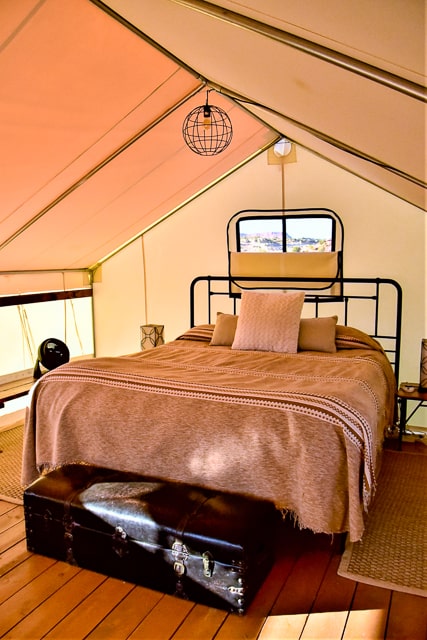 Solar-powered
An independent solar array provides power to the tents. You can charge your phone, laptop, and camera while keeping the lights on. Tents have propane heaters, extending camping into the shoulder seasons. Paths are lined with solar lights to help you find your way on a nighttime trip to the bathhouse. Or for a midnight snack attack.
Bath time
The camp has a beautifully appointed bathhouse, with two full bathrooms (complete with sliding barn doors on each room). It is so delightful; maybe I should call it a spa. Pump bottles of bath necessities line up neatly within easy reach from the shower. Fluffy towels are close at hand. There is even a sitting area with lots of reading material on local attractions for those who must wait!
The owners' ingenuity shows in the materials used in the shower design—a metal watering tub. Amy explained, "We were looking for a way to complete the projects while using materials available locally." Also, a large stock watering tank, posing as a hot tub, on the bathhouse's porch.
Kitchen and Dining Areas Provided
Adjacent to the bathhouse is the camp kitchen. Now, I am not talking about a one-burner butane cooktop; I'm talking about a full-size gas oven! The kitchen has nearly anything you might need for cooking, except a microwave. There is a second kitchen outside, with more burners and a grill for those who want a cooking outdoors experience.
Each cabin has its own assigned shelf in the refrigerator, and there is plenty of room in the freezer for your ice packs or anything else you bring. A complimentary pantry is just above the stove. Need Pink Himalayan Sea Salt? It's on the shelf. Black Pepper? Just look. Basil? Thyme? Amy has you covered. S'mores for the campfire? You will find all the fixin's in the kitchen. And the fire pit is right outside!
There is a large dining area on one end of the kitchen. Ample seating is provided for large groups of family or newly made friends.
Basecamp has the perfect solution for that afternoon nap—a hammock provided just outside the kitchen on the patio. Not that anyone would be caught taking a nap instead of helping with dinner. Or would he?
Five tents to choose from
Basecamp 37° offers five tents, named to honor local explorers. The Escalante was named to honor 18th-century Franciscan missionary and explorer Silvestre Velez de Escalante. The Hayduke, which faces the Chocolate Cliffs in the southwest, honors the Hayduke Trail—a strenuous 812-mile wilderness backpacking route. The Powell was named for John Wesley Powell, the explorer. The latter conducted the 1869 Powell Geographic Expedition, a three-month river trip that included the first official U. S. passage through the Grand Canyon. They named the Katie Lee for a beloved environmentalist, activist, river runner, writer, folksinger, and actress. Finally, the Josey Wales is named for a fictional outlaw in a movie filmed primarily in the Kanab area.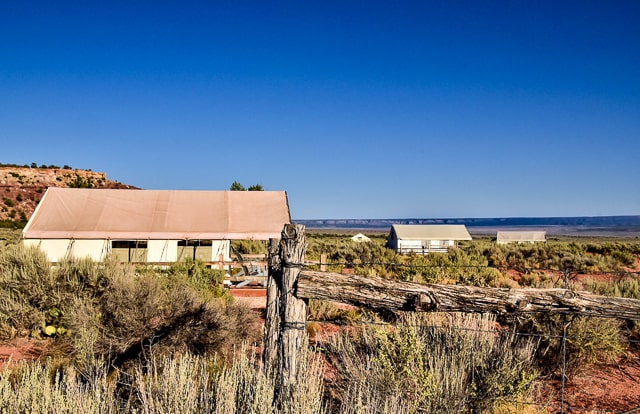 The beautifully decorated tents all contain king-sized beds. Our tent, the Katie Lee, also provided a futon for use as a couch or a second bed. There were night tables on both sides of the bed, several rustic benches to pile all your things and a stack of comfy pillows. And the best thing? You can pull right up to your tent to park, making unloading and loading the car nearly painless.
One more choice
If the tent idea just isn't for you, there is one more choice. Basecamp has partnered with Quiet Shelters to offer a one-bedroom, one-bath artist casita only two miles from Kanab. It is a natural, southwest designed space with red adobe tones and green sage trim.
Gravel pathways surround the house, as they do the tent sites. There are lovely trails, as well, giving you plenty of breathing room and space for walking and thinking. Do I hear a writer's retreat calling my name?
Kanab after dark
Basecamp provides a library of maps for plotting your next day. You can trade stories and tips with the other campers around the campfire.
There is television if you just have to catch a game, or you can play a pickup game on what Amy calls "Utah's most scenic corn hole court." While at Basecamp in Kanab Utah, they stock board games and decks of cards, or you can just chill by the campfire. It all beats sitting around a hotel any day—or night!!
Perfect Utah sleeping weather
The nighttime temperature had dropped into the 50s when we were there, but the mattress pad kept us toasty without using the heater. The bed was topped with layer upon layer of soft, fluffy covers—luxuriously soft sheets, fuzzy blanket, comforter, and topped with a thick bedspread.
Good morning, Kanab Utah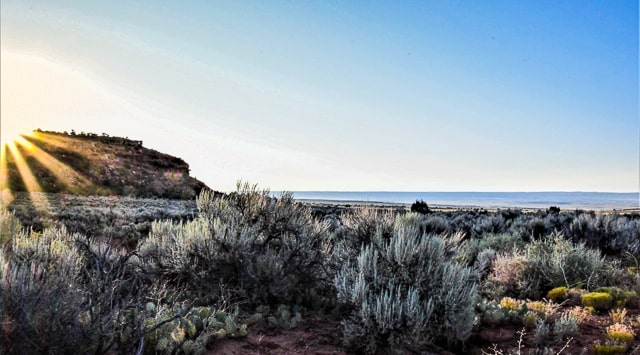 When I awoke, the sky behind the rocks was just beginning to show a few streaks of pink. I headed to the bathhouse, startling a couple of bunny rabbits along the path. After my shower, I made my way to the kitchen to start our omelets. Three other couples filtered into the kitchen, and, exchanging sleepy "Good Mornings," they retrieved their items for preparing a morning meal for themselves. It did not take us long to create a fluffy omelet and then head off to pack up our belongings. We had a nearby natural wonder tour, Peek A Boo slot canyon, scheduled for 10 a.m. Fortunately, Dreamland Safari Tours is just two miles up the road. We made it to our next adventure with time to spare!
Basecamp 37° will open for the season on March 27, 2021, so you have less than four months to make plans for your trip to Kanab Utah.
Basecamp and Kanab Utah comments
Since Basecamp's launch in March 2017, visitors have recorded their comments in a logbook found in the kitchen. Most mention the amazing scenery and the sunrises surrounding Kanab Utah. Folks have visited from Spokane, Washington, and Boston, Massachusetts, from Wisconsin to South Carolina. Nearly every comment ends with "can't wait to come back."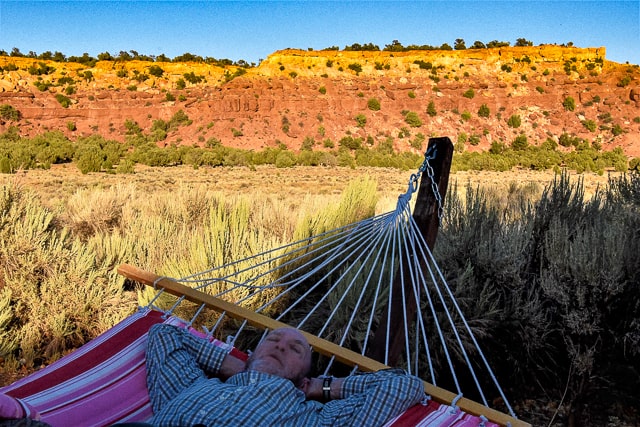 ---
About Jo Clark—Jo Clark is a happily-retired teacher, travel writer, photographer, food, and wine lover from South Carolina's Grand Strand. She loves learning about local flavors unique to travel spots and adding to her list of places off-the-beaten-path. She is a member of the ITWPA, TravMedia, and Travel Massive. See more of Jo's work on her website Have Glass Will Travel. Follow her on Facebook, Instagram, Twitter, and Pinterest.
About Darrel Mellies—Darrel is a retired Chiropractor that follows his passion for photography. He loves to read and study photography techniques and loves to travel—he is always ready to go. A former Navy man and oil driller, he has traveled to Greece, the Middle East, Europe, and Asia. Darrel has often said, "I'd rather travel than eat when I'm hungry, and I love to eat!" See more of Darrel's work at Photography by Darrel.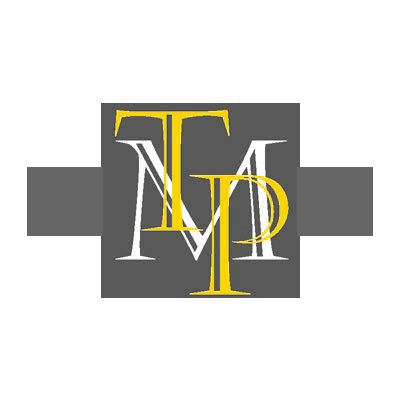 Making A Side Income Selling Stock Photos From My Outdoor Adventures