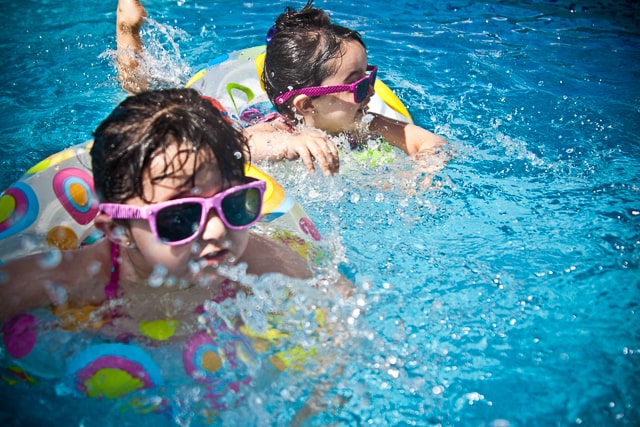 You need a cruising guide for grandparents when your grown children with families of their own call and ask if you want to go on a cruise. They'll say things like, "It will be a fun family adventure" and "think of all the wonderful family memories we can make." Don't be fooled. What they really mean is, we need you to come along and babysit…
…as true as this is, go anyway
Going on a cruise with multiple extended family members is a completely different animal than going by yourself. We agreed to escape the winter cold by going on a group cruise to the Bahamas. Twelve of us (including grandchildren ages 6, 4, and 2) met in New Orleans for a seven-night cruise on Royal Caribbean's Majesty of the Seas.
Cruising Guide for Grandparents
Here are tips and tricks for grandparents to make the most of a multi-generation cruise.
Choose a smaller ship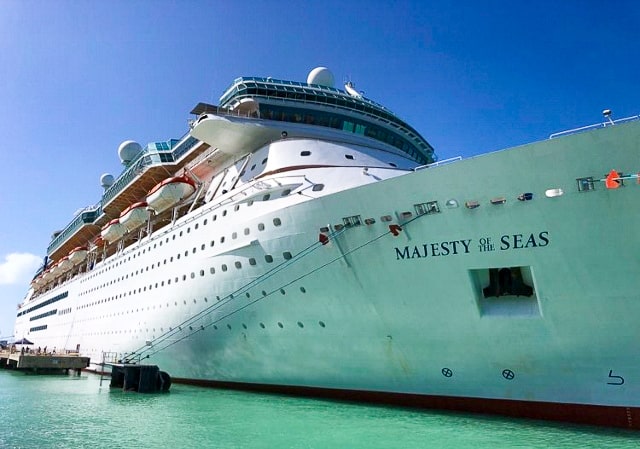 Choose a ship with a capacity of fewer than 3,000 passengers. Larger ships can be too big, especially when you are running after kids and grandkids. Smaller ships are easier to navigate – easier to not get lost. There's a lot less distance to cover whether meeting up with others, going back and forth to the room to change clothes, take naps, or fetching forgotten items like sunscreen or diapers.
Book your rooms together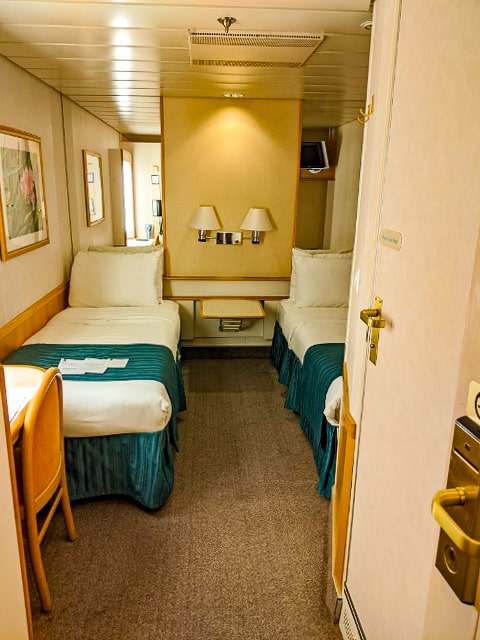 Book your rooms next to each other, or at least all on the same deck, in the same vicinity. If someone in your party needs downtime or wants to take an uninterrupted shower, the kids can easily be sent to the room next door. It's convenient for borrowing a forgotten item. It's fun to spend time just hanging out with each other even when relaxing in your rooms.
Pack light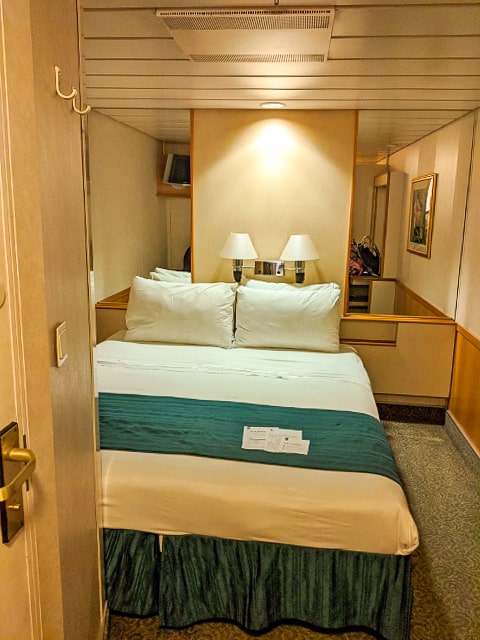 Do not pack everything you own. All you need for a seven-night cruise is two or three sundresses and one or two T-shirts and shorts. Sandals/flip flops, bathing suit, sweater, hat, and a formal outfit and shoes for the captain's dinner (optional). Seriously, that is all you need.
Three pairs of shoes maximum – sneakers for shore excursions, sandals, or flip-flops (all I wore aboard ship), and a nicer shoe or sandals for the formal-night dinner. Get the most out of what you pack by having your one sweater and sandals match several outfits. Wear an outfit twice; trust me, no one will know or care. It might take a little extra planning to coordinate outfits ahead of time but believe me, it's worth it.
Pack fun for the grandkids
With all the extra room in your suitcase, pack some fun for the downtime/rest time spent in your cabin. Think of small toys like Barbie or Matchbox cars, crayons, coloring books, card games, a book, or a small DVD player. This keeps the older kiddos from being bored while in the room. They can quietly watch a movie while the baby takes a nap.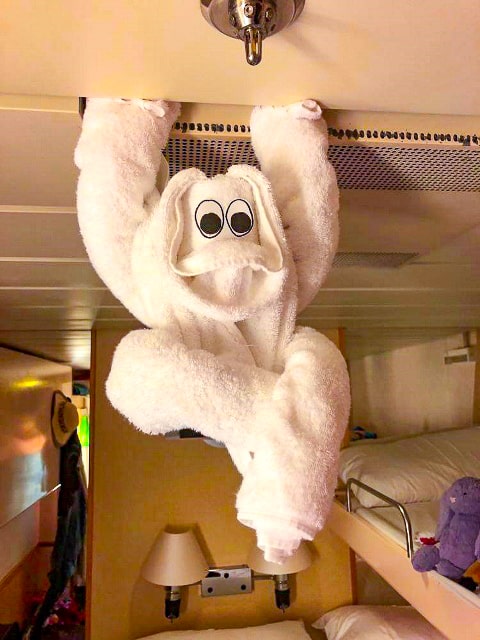 Cruising guide for grandparents messaging tips
Cell phones don't usually work on ships, so it's a great idea to bring small, magnetic whiteboards. You can usually find them at the Dollar Store. Hang them on the outside of your cabin doors for messaging each other.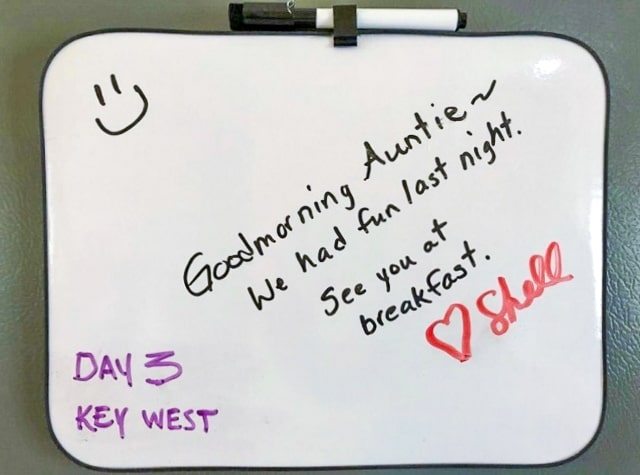 When you leave your room or retire for the night, leave a message for others to read about where you are going – to the pool, buffet, bar, or do not disturb. It's even nice to wake up to a sweet message from a loved one.
Other handy things to pack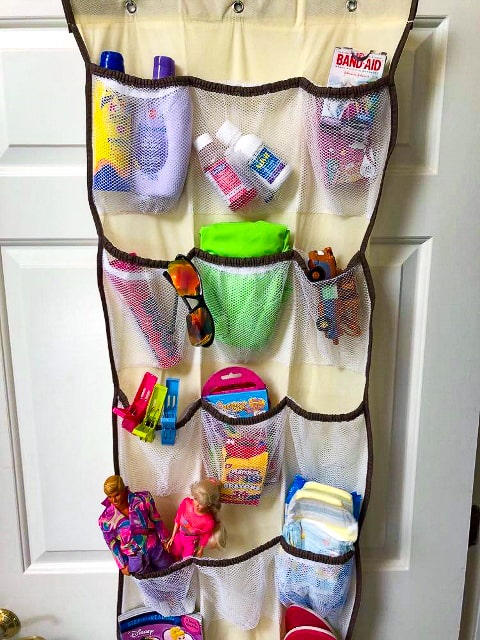 Most cabins are small, with little space to store belongings. Magnetic hooks are handy for hanging up sundresses, sweaters, and hats. A must-bring is an over-the-door shoe organizer. Hang it on the outside of the bathroom door. It will keep items like shoes and the little ones' toys, hairbrush, vitamins, and more off the precious floor and counter space. Organizers made of cloth will roll-up and take minimum space in your luggage.
Continental breakfast room service
If your ship offers in-room continental breakfast, take advantage of it. This is essential when cruising with little ones. Even if you are planning to eat breakfast in the dining room or buffet. It's amazing how far a cup of coffee for you and donuts or fruit for the kids can go.
It's much easier to get the littles up and going when the surprise-food arrives at the door. It keeps them from whining about hunger and gives you valuable time to get ready for the day without too much interruption.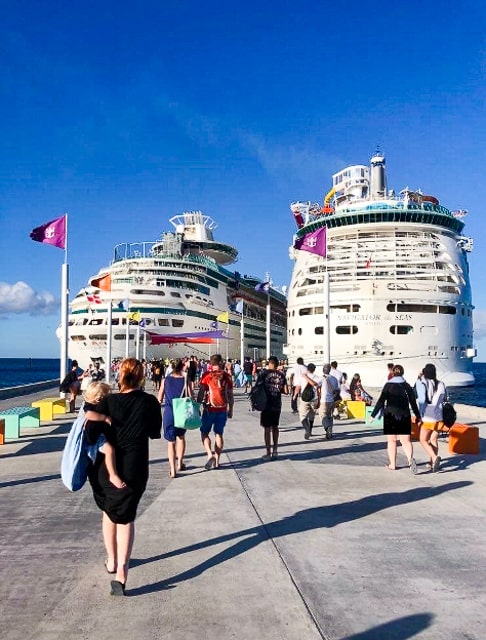 Kids club
Most ships have some sort of supervised kids club. Participation ages vary from ship to ship. The kids club is where they provide structured activities. This gives you a much-needed break to just sit, enjoy the sunshine, read a book, or get grown-up snacks for yourself. Even just an hour or two after dinner allows you enough time to recharge before heading back to the room for showers and bedtime.
Relax
No matter what, don't rush. Even if you have a scheduled dining time or you might miss bingo. Yes, you might just be a glorified babysitter, but this is your vacation too. Make it special. Enjoy every minute. Make those family memories. You'll be glad you did.
About Loretta Berry—Loretta is a freelance travel writer and photographer. She has traveled extensively throughout the United States. Berry loves traveling with her children and grandkids, sharing with them her passion for fun and adventure. She is a member of ITWPA and TravMedia. You can follow her adventures on both Facebook and Instagram.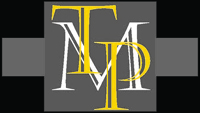 More reading for multi-gen travel-
Multi-Gen Travel – It's All in the Planning