By Diane Macfarlane
ITWPA Member
Amidst the scenic magnificence of California's Monterey Peninsula, known for world-class shopping and dining, nestles a little slice of France that is both delectable and delightful. Largely unadvertised and challenging to find, this small Parisian bastion of baked goods and pastries is located in the Barnyard Shopping Center just east of California Coastal Highway 1.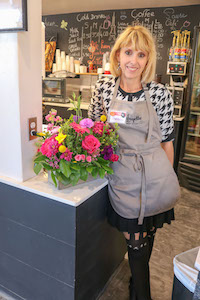 Lafayette Bakery & Café serves up a fanciful array of French goodies in a casual street-café atmosphere. In sparkling and stuffed-to-overflowing display cases, delicious products — which have traveled about 15 feet from the busy kitchen readily visible from the counter — are proudly displayed. The beauty, textures, and flavors of both sweet and savory entrées evidence many years of old-world French experience, where this team ran a bakery and café. Reasonably-priced perfection for breakfast, brunch, or lunch.
Locals (and make no mistake about it — this treasure is well-known in the community) love to bring their dogs to bask in the warm, welcoming atmosphere on the outdoor patio. Jack, a handsome Australian shepherd, sports a dapper bandanna and is a well-known visitor. Patrons arrive through the front door sporting Lafayette's hot air balloon logo to a cry of "bonjour," as is traditional in France. Regular customers find this ritual charming and seem to greatly enjoy the look of pure surprise turning swiftly to delight on the faces of first-time visitors.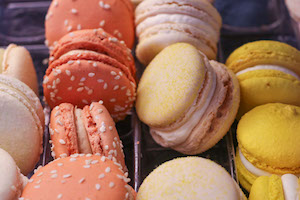 Fresh-baked pastries are exquisite flaky delights. Buttery croissants melt on the tongue, with fillings that can only be likened to the stuff of dreams. Tender macaroons adorn displays like colorful confetti, and put one in the mood for a decadent champagne accompaniment. Baked goods are unique amalgamations of pastry, meats, sweets, savory fillings and/or toppings, and include quiche, tartelettes aux pommes, meringues, and croissants.
All of the pastries beckon and distract from the mission of selecting a perfect baguette to accompany some artisan fromage or creamy butter for an afternoon picnic. The baguettes are among the best available anywhere in California! For a special treat, be sure to try the sourdough, which is started with fruits to lend a flavor you cannot find anywhere else. Create a picnic for lunch on the beach accompanied by a bottle of wine. Of course, gourmet coffees and other beverages are available to accompany the careful choices made at the counter.
One of the most charming aspects of this establishment is that it is a family business arriving here via Paris, Lyon, and the Rhone Alps. Opening this bakery was a dream 35 years in the making for the dynamic culinary duo of pastry chef/master chocolatier Pascal Merle and master baker Jean-Bernard Vial. After opening four bakeries in France, they were ready to bring their expertise to the U.S. The family embraced California's central coast because it reminded them of home.
The process of obtaining a visa to operate here proved to be quite a challenge. Those members of the family directly involved in the operation were granted their documentation and the bakery opened on July 30, 2013. A sad note is that the family also has two more sons aged 18 and 20 that are not involved in bakery operation and so were not included on the visa. The boys are still in France, and the family hopes to find a way to reunite here soon. Bonne chance et merci!
Lafayette Bakery & Café
3672 The Barnyard, Suite #E22
Carmel, CA 93923
Hours: Monday through Saturday, 7 a.m. to 6 p.m.; Sunday 7 a.m. to 4 p.m.
http://lafayettebakery.com
If you would like to purchase this article for your publication, please click here to contact the author directly.