Tower Hopping in Japan
By Rey Waters
ITWPA Member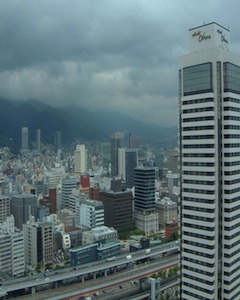 For those who like breathtaking views, but don't want to climb Mt. Fuji, try tower hopping!

Every major city in Japan has a tower with an observatory. During our past two Japan trips we visited six unique towers. The prices range from 600 yen ($7.75) to 820 yen ($10.50) to ride to the top. All are easily reached via train and/or bus.

Kobe, scene of the devastating 1995 earthquake, has a tower (302 feet) at its port located in Meriken Park. Even on a cloudy day it is still a worthwhile view. The tower was built in the shape of a tsuzumi (a traditional Japanese musical instrument). On the observatory floor is a rotating café and of course a gift shop. In the distance you see the Rokko mountain range and up close the skyline of Kobe. On a clear day we were told you can see the city of Osaka.

In Osaka (Japan's third largest city) there are two towers. The floating garden tower (558 feet) is located at the Umeda Sky Building in Kita-ku business district (North Osaka). The building is recognizable due to the bridge connecting its two 40-story towers. Take the elevator and then the escalator to the rooftop observatory. In the basement of this building is an underground market built to resemble old Osaka, and you can enjoy one of the many great coffee shops found throughout Japan.

A taxi ride took us to the Shinsekai area (traditional old Osaka) and Tsutenkaku tower (338 feet). This one was patterned after the Eiffel Tower. We observed a completely different view of the city. On the fifth floor of the observation tower is the Billiken statue (God of Happiness). Touch his feet for good luck.

The Kyoto tower (433 feet) is the tallest building in the city, right across the street from the train station. You can see the many historical shrines throughout the area.

Yokohama Marine tower at 358 feet has a two-floor observation deck and a beautiful view of the harbor. Yokohama was the first area in Japan to open trade to the outside world.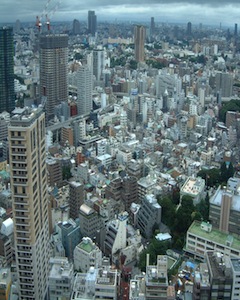 Of course there is the famous Tokyo tower, the world's tallest self-supporting steel tower (1,091 feet), found in the Minato district of Tokyo. The view leaves you awestruck as to how many people live in this huge city.

There are many more towers throughout Japan and our desire is to visit them all. The newest is the Tokyo Sky Tree, which will open in spring 2012. It is located in the Sumida Ward. The tower is 2,735 feet, making it one of the tallest in the world.

This is an inexpensive way to get a high-up view of the great cities of Japan.


If you'd like to purchase this article for your publication, click here to contact the author directly.
Additional photos available upon request.

Tips for Traveling
By Jody Hanson
ITWPA Member

No matter if you are a first-time traveler or a seasoned pro well on her way to joining the Travelers' Century Club (http://travelerscenturyclub.org/), there are a few things that will make your trip easier.

Before You Go

Get your shots. Find a travel clinic or a competent GP -- preferably one who has traveled and can speak from experience -- and set up a schedule for your International Certificate of Vaccination. Make sure you get vaccination for yellow fever as well as hepatitis A and B if appropriate. Check the latest debate about malaria -- whether or not to take prophylactics -- and decide if you will carry the medicine with you or ask the locals what they use when you arrive.

Scan passport, birth certificate, tickets, international driving permit, International Certificate of Vaccination (every page), and reservations to a Gmail account. This "insurance" means that if anything untoward happens you can download the documents from an internet café anywhere in the world.

When You Pack

With a bit of determination you can reduce your load, spare yourself back strain, and waltz past the people at the luggage carousel.

Travel with a carry-on and large computer/handbag only. Dragging a suitcase or lumbering along with a backpack means you are taking far more than you need. Lighten up and reduce your load to two outfits: one to wear and one to wash. Also take along an outfit you can wear when you are invited out. You can buy clothes overseas, so if you get an invitation to a gala event, shop at a designer store or pick up an outfit from the used clothes market, depending on your budget.

If you are traveling on the cheap, take along a laundry bag that contains detergent, rubber gloves, a portable clothesline and a dual voltage travel iron. If you are staying in a five-star hotel, use the laundry service.

Sort things into bags. This will help you keep your carry-on organized. Get a good multi-compartment bag for cosmetics and personal items, another for a basic first-aid kit, and a drawstring one for shoes and dirty laundry.

Once You are There

Send rather than carry. If you want to buy souvenirs, trinkets, and must-have carvings while you are on the road, post them rather than trying to cram them into your bag. Cotton bags -- think of flour sacks -- can be made up in any market and are ideal to ship goods home. Send them by sea mail as it is cheaper and attracts less attention from would-be thieves and customs. Trips to post offices in some countries can be adventures, so take along your sense of humor.

Embrace the unexpected. If you want to plan your trip down to the last detail and know exactly where you are going to be and what you are going to be doing on any given day, take an organized tour.

Eat with the locals. If a place is full of people who look just like you, keep going until you find one inhabited by those who don't. Try the street food, but avoid things like salads that aren't cooked. Start small and work your way up when it comes to adapting to food in a new country. The more you build up your immune system, the stronger it gets. Dysentery and other minor ailments are part of the rich tapestry of travel.

Head for the markets. Even if you don't want to buy anything, the smells and the interactions of the buyers and sellers are a good insight into the culture of the country. Slow down and become absorbed in the market life.

Check out home stays. The option of staying with local people who rent out a room or two means that you are helping them meet their living expenses. In exchange, you are meeting "real" people who can offer you invaluable advice.

When You Get Back

Record your travels on a world map. Buy a Peter's Projection map -- http://www.mapsbookstravelguides.com.au/world_peters_projection_map_hema_laminated -- and keep track of where you've been. Or opt for an online interactive map -- http://edit.freemap.jp/en/trial_version/edit/world -- that you can print, send to friends, or load on Facebook. Use dotted lines for flying and solid ones for overland travel. Start a list -- place, year -- of the countries you visit and attach it on the bottom of the map. You can always add more information, such as the Wonders of the World you visited or the major train trips you took.

If you'd like to purchase this article for your publication, click here to contact the author directly.

Sail in Darwin's Wake While You Still Can
By Philip Griffith
ITWPA Member

Absolute silence, except for the breathing in my snorkel.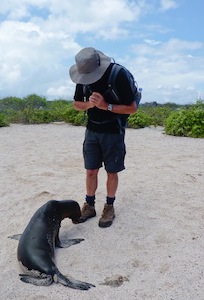 A sleek, dark black body suddenly appears, gliding silently, effortlessly, close enough to touch. Just as quickly it's gone. Another appears. The narrow, pointed head, small ears, bull neck, and powerful flippers are huge in the crystal clear, tepid water. The sea lion's large brown eyes look directly at me as it rolls, dives, and frolics with dolphin-like antics.

Out of the corner of my eye a large green sea turtle emerges, flippers paddling rhythmically. I follow while also keeping a close eye on the sharks cruising on the bottom amongst a myriad of brilliantly-colored tropical fish.

I cautiously distance myself from a gigantic manta ray ghosting along.

This rendezvous with the Galapagos Islands' wildlife has been a lifelong dream. Straddling the equator 621 miles from the Ecuador mainland, the 19 islands that make up the archipelago still have the same struck-with-wonder impact on visitors as they did on Charles Darwin in 1835. But you don't need to have read his "Voyage of the Beagle" or "The Origin of Species" to realize that these islands are something special.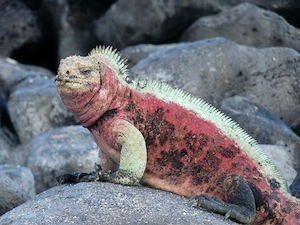 On land the same diversity and friendliness greet us. Many animals are endemic to specific islands. The three-foot-long red and green Marine Iguana (from the dinosaur age) are so plentiful and tame there is a real danger of stepping on them. They have a gland in the head that separates the salt from seawater so they can drink seawater. Occasionally they sneeze out the salt.

Red crabs litter the rocks, penguins preen, and lizards scuttle, but the land is dominated by the innumerable sea lions lazing in all sorts of poses on the beach, rocks, and scrub.

The air is full of wildlife as well. Various species of the little sparrow-like Darwin finch are everywhere. Large blue-footed boobies, frigates, swallow-tailed gulls, and mockingbirds dominate the skies. Innumerable cheeky pelicans with their huge beaks scoop up fish with ease.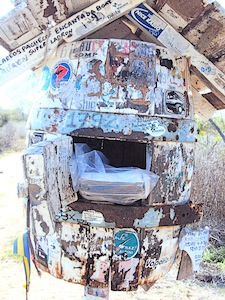 We're on board the 46-foot sailing catamaran "Galapagos Vision" with nine passengers, a crew of five, and our guide. The Galapagos Islands straddle the equator. It's hot, 105 degrees. There's no wind so we can't use the sails. The sea is flat. We keep cool by snorkeling twice a day or just jumping overboard. We travel at night between islands and arrive each morning in a new place. Sometimes there are six to eight other tourist boats anchored in the same bay, some with over 100 passengers!


We awake one morning at Post Office Bay on Floreana. No one lives here but there is an old wine barrel which is used as a mailbox. All tourist boats call in and passengers post letters free to friends around the world. Everyone sorts through the mail to find any letters addressed to their parts of the world, which they then take to deliver personally. This tradition, started in the pirate days, is now continued by tourists.


On Floreana there is also a lava tube, a pitch black tunnel nearly 20 feet in diameter created by a lava flow. A quick swim here was bracing.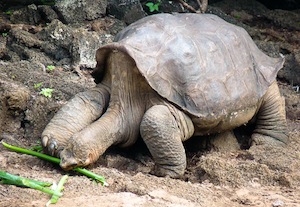 Our five-day trip ended on the island of Santa Cruz where the Charles Darwin Station is located. Sea lions once again line the footpaths. The very successful giant tortoise recovery program at the Darwin Centre has been operating for 30 years now. We visit the sad-looking "Lonesome George," the 100-year-old last surviving member of his giant tortoise species.

The Galapagos National Park does a wonderful job of maintaining the integrity and resources of the park but tourist numbers are increasing rapidly. If you want to see the unspoiled beauty of the Galapagos before tourist saturation, don't wait.


There are a vast number of companies running tours with all sizes of boats to suit your style and budget, from $1,000 to $5,000 for three to seven days including food and snorkel and flippers. Accommodation Trips leave by air from Quito or Guayaquil in Ecuador.

Useful websites for finding the right trip to suit you include:

http://www.galapagosislands.com/galapagos-cruise.html
http://www.discovergalapagos.com/IntiTravel/Galapago.html
http://cazhumatours.com/promotions.html


If you'd like to purchase this article for your publication, click here to contact the author directly.

How to Find (and Drink) the Blood of a Dragon
By Heather Rath
ITWPA Member

The next time a little person asks if you believe in dragons, say yes. Then go one step further and say, "I've even tasted its blood!" Now watch those little eyes pop open.

You might not be lying.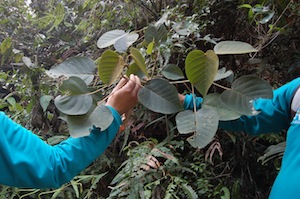 As we hike in one of Colombia's eco parks, Gustavo, our guide, points out a heart-shaped leaf from a tree, explaining it is known locally as Arbol de Drago, the dragon tree (croton lechieri). "The sap from this tree is red like blood," he says -- from which comes the name Dragon's Blood.

Gustavo explains that the medicinal properties of Dragon's Blood/Sangre de Drago are well-known among the indigenous people of South America. Locals use the dark red sap to help alleviate or heal a wide variety of ailments and it appears to boost the immune system as well. The sap is reputed to promote the healing of gastrointestinal problems like ulcers, diarrhea, nausea, and vomiting. It reportedly is a diuretic, prevents dandruff, and can be used on the skin to alleviate acne and insect bites. A few drops will form a protective coat on a cut, like a liquid bandage, to stop bleeding.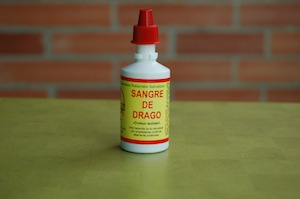 The list of health benefits attributed to Sangre de Drago is long. It helps fight against memory loss, intestinal parasites, sore throats, and haemorrhoids. Indigenous women apparently use a solution of it to wash out the vagina before childbirth. There are even claims that Dragon's Blood is beneficial in the fight against cancer, tuberculosis, erectile dysfunction, and more... it seems a few absorbed drops of this liquid is a cure-all. Intrigued by these health claims, we later began our own investigation of this remarkable indigenous remedy. Internet research indicates there have been some U.S. patents registered to study the anti-viral and healing properties of Dragon's Blood. A quick search also reveals that the dark, viscous liquid is sold on the internet.


Gustavo introduced us to Dragon's Blood in Parque Arvi, an eco park 8,200 feet above sea level, which is about 3,000 feet above Medellin, a Colombian city located in a valley surrounded by sloping mountains. The leaf of the dragon tree is incorporated into the park's insignia. Gustavo explained that the dragon tree is also found in the Amazon jungle and in Peru and Ecuador as well as Colombia. Each indigenous tribe has its own specific medicinal uses for Sangre de Drago.

Not surprisingly, after our educational hike we headed directly to a natural health store in Medellin and asked for Dragon's Blood. The proprietor fetched a small plastic container of purified Sangre de Drago with no additives at a cost of about $2. Recommended daily dosage is three to five drops in a quarter cup of water for maximum health benefits.

So, did we actually use Sangre de Drago?

Our little people friends wonder why we're breathing fire.
If you'd like to purchase this article for your publication, click here to contact the author directly.

Somewhere in Southern Germany
By E. Richardson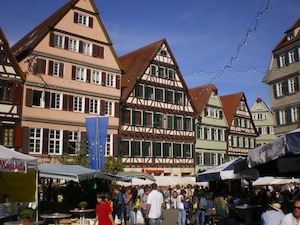 When I started my university career, little did I know it would take me to a picturesque town in the middle of the German state of Baden-Württemberg. But where better to spend my semester abroad; it is gorgeous and warm in summer while beautiful and white in winter, and the people defy just about every stereotype you have ever heard about Germany.

Tübingen is a university town with a population of almost 90,000, more than one quarter of which is made up of university students. The Old Town is exactly what you think of when picturing Germany; there are timber-framed houses, market places, cobblestone streets, and even a brewery. You can find fresh fruit and vegetables in stands around the town, and four times a week there is a farmer's market in the main market place outside the town hall. The zone is mainly pedestrian, and full of book shops, gift shops, and boutique clothes shops, making a wander through the maze of the Old Town an interesting and enjoyable way to pass the afternoon.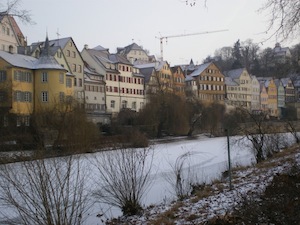 On the southern side of the Old Town runs the Neckar River, which together with Neckar Island forms the most commonly photographed part of Tübingen. A popular pastime in Tübingen is riding on the Stocherkahn (punting boats), and there is an annual punting race on the river each June. Another novelty race held on the Neckar River is the rubber duck race, in which thousands of yellow rubber ducks are let loose on the river, competing for first place and a prize. It is also on the northern bank of the Neckar River that we find the Hölderlinturm, where the poet Friedrich Hölderlin lived for the 36 years before his death after he was brought to Tübingen for ongoing treatment of mental illness.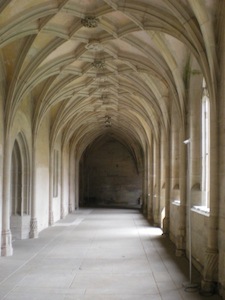 To the north and northeast of the Old Town we find the university and university residences, as well as residential buildings. South of the Neckar River is the train station and an extension of the shopping in the Old Town, and slightly to the southwest is a large outdoor water park alongside sport facilities and a large grassy reserve area. There are also many nearby towns to explore, as well as castles and the Bebenhausen Monastery. For such a small town on a world scale, you will struggle to run out of things to do in Tübingen and its surrounding areas.

Getting to Tübingen is no problem, with a bus running regularly from Stuttgart airport, which has many international connections, and trains connecting the town to everywhere else in Germany. Due to the high number of students here, Tübingen has one of the youngest populations in Germany, and this is noticeable in the culture of the city, giving it a lovely vibrant feel. The climate in Tübingen is generally very pleasant, with pleasantly warm summers and cold but breathtakingly stunning winters, and I would recommend visiting at any time of year.

If you'd like to purchase this article for your publication, click here to contact the author directly.

Cerro Ancon, Panama City, Panama
By Mike Hopkins
ITWPA Member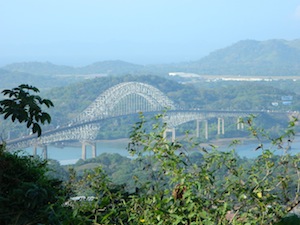 Located on the northeast end of Panama City, overlooking the Panama Canal, is Cerro Ancon. It's the highest natural point in Panama City and has excellent views of the Panama Canal, Bridge of the Americas, Casco Viejo, and the modern skyline of Panama City. But it's not on the "must see" list for most tourists or tourism companies. In fact, until recently you couldn't even write a review for it on Trip Advisor. So let me be the first to suggest you take an hour or so out of your already busy trip to Panama City and visit Cerro Ancon.

Cerro Ancon (ANCON is an acronym for the Panamanian environmental group Asociacion Nacional para la Conservacion de la Naturaleza) is translated as Ancon Hill. It was held by the U.S. as part of the Panama Canal Zone until 1977 when it was returned to the Panamanians. Since it was controlled by the U.S. for much of the 20th century, it escaped the developers. It is a little jungle oasis inside the city with numerous species of birds, sloths, armadillos, and deer. In my walks to the top, I've seen a toucan (though it escaped my photo attempts) and several other types of birds, sloths, and armadillos. I've seen deer wandering through the residential area at the bottom of the hill.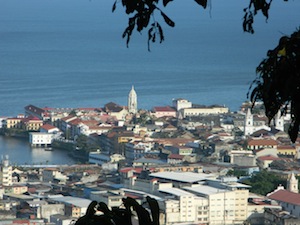 While there is a single lane road that runs to the top from the Quarry Heights area that is driven mostly by taxis and tourism vans, it is a fairly easy walk. If you begin your walk from the Quarry Heights area and travel at a leisurely pace, it should take about 30 minutes. As you climb the hill, there are photo opportunities of the Panama City skyline and Casco Viejo that vehicles can't stop for. Also, benches are conveniently located along the road so you can sit and watch the birds or just take a break. Once you arrive at the top, from one side of the hill you'll have a great unobstructed view of Casco Viejo, the Pacific Ocean staging area to enter the Canal, and some views of the city. On the other side, you'll see the Bridge of the Americas, the port of Balboa, and the Miraflores Locks of the canal.

If you'd like to purchase this article for your publication, click here to contact the author directly.
Additional photos available upon request.